'If your heart is with Corbyn, get a transplant,' Tony Blair tells Labour supporters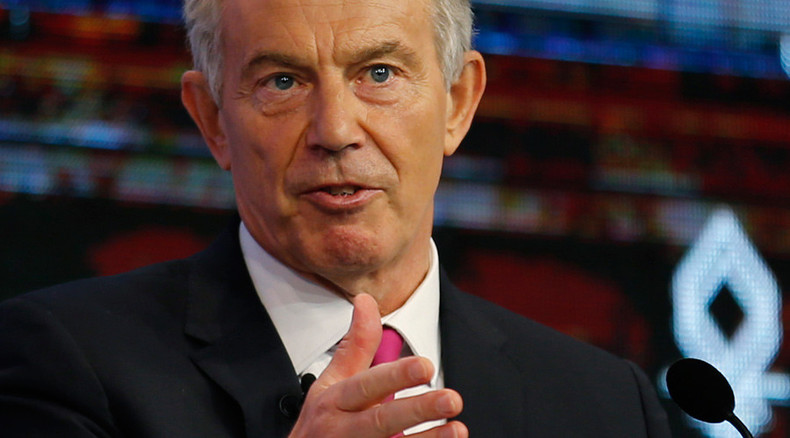 Former Prime Minister Tony Blair has warned against the Labour Party moving too far to the left, as poll data emerged signaling anti-austerity leadership candidate Jeremy Corbyn has taken the lead. 
Speaking at a think tank event with Matt Forde, a former Labour organizer turned talkSPORT presenter, Blair warned a move to the left would result in defeat for the party at the next general election.
The former leader, who won three general elections and led the party for 13 years, sent a bleak message to Labour: "Don't for heaven's sake move back," he said, saying it would be impossible to win an election from a "traditional leftist platform."

He mocked those who support Corbyn, saying if they believed their heart was with the anti-austerity candidate they should "get a transplant."

While he refused to back any single candidate for the position, he was clear that veering to the left would leave Labour in opposition for many years.

Instead, he urged the party to regain economic credibility, saying this would be an effective way to regain voters' confidence.
"We need to regain economic credibility. There is a perfectly sound case for saying we should have tightened policy before the crash; there is absolutely no case whatever for effectively accepting that Labour 'caused' it. But we cannot address the future unless we are clear about the past and unless we show we're completely confident in economic policy," he said.

His plea, however, comes as socialist leadership candidate Jeremy Corbyn was revealed to have topped the latest YouGov poll with the backing of 43 percent of voters.

Corbyn appears to have stormed ahead of the bookmakers' favorite Andy Burnham, who only courted the support of 26 percent of voters.

Yvette Cooper was predicted to come in third on 20 percent, with Liz Kendall trailing in fourth with just 11 percent.

Cooper spoke out after the results were revealed on Wednesday morning, saying the poll did not accurately reflect the opinions of party supporters.

"This doesn't reflect our internal data and significantly understates the huge number of members and supporters giving Yvette their first preference," a spokesperson for Cooper said.

"However, what it does show is that Yvette is now the only candidate who can win the leadership election and then reach out to the wider electorate to win the general election in 2020. We won't do that by shifting a narrow party further to the left or by returning to the dismal days of the 1980s, with internal party warfare and almost two decades of opposition."