​Climate change activists occupy Heathrow Airport runway, 6 arrests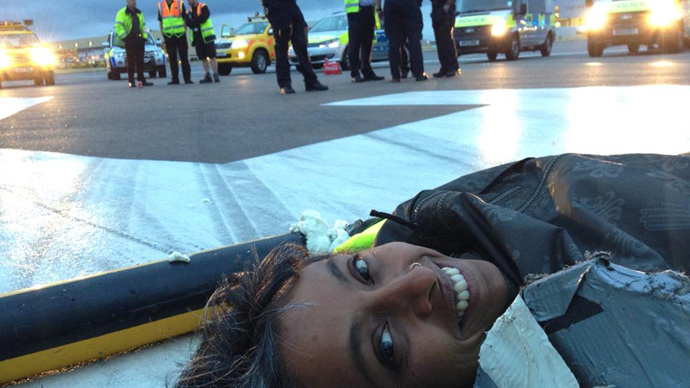 Six climate change activists have been arrested after occupying the north runway of London's Heathrow Airport on Monday, causing flight delays and cancelations.
A dozen protestors from direct action group Plane Stupid cut a hole in the airport perimeter fence and entered the runway at 3:30am, where they used arm-locks to chain themselves around a tripod.
A spokesperson for the campaign group said the protest was against a proposed runway expansion at the airport and related increases in carbon emissions.
Flights resumed at around 8am, although Heathrow Airport has warned there will still be delays to passengers.
Police used cutting equipment to remove the demonstrators who were lying on the ground chained together around a tripod.
Yep, still going on this one... #keepitonthegroundpic.twitter.com/voFhgDKtso

— Plane Stupid (@planestupid) July 13, 2015
One activist dressed in a polar bar costume had to be removed from the top of the structure with a cherry picker.
Plane Stupid activist Ella Gilbert said the construction of further runways at the airport has serious environmental implications.
Polar bear got chilly, bless him. #ironic? #NoThirdRunwaypic.twitter.com/5ceyFgzyPJ

— Plane Stupid (@planestupid) July 13, 2015
"Building more runways goes against everything we're being told by scientists and experts on climate change. This would massively increase carbon emissions exactly when we need to massively reduce them, that's why we're here," she said.
"We want to say sorry to anyone whose day we've ruined, and we're not saying that everybody who wants to fly is a bad person. It's those who fly frequently and unnecessarily who are driving the need for expansion, and we cannot keep ignoring the terrifying consequences of flying like there's no tomorrow."
A video posted online shows several activists chained together around a tripod on Heathrow Airport's north runway as a police officer spoke with them.
"As a consequence of you being here, you are causing severe disruption and it will be in the millions of pounds because it will take us a while to remove you," the officer told the activists.
"The cost will be in the couple of millions. The airport will attempt to make a civil recovery…. There are international flights now being diverted," he added.
The brave @planestupid protestors occupying a Heathrow runway are defending human life and the living world against greed and short-termism.

— GeorgeMonbiot (@GeorgeMonbiot) July 13, 2015
A Metropolitan Police spokesman said in a statement: "At approximately 3:45am officers were alerted to a number of protesters who had made their way airside at Heathrow Airport. A small number of these protesters are believed to have chained themselves to a 'tripod'. Officers are in attendance."
Heathrow had canceled 13 flights by midday on Monday. A spokesperson for Heathrow Airport Police said these cancellations were "mostly" due to Monday's runway occupation.
Hard working people just off on holiday being delayed by workshy protesters at Heathrow, Tarmac over the top them I say

— Ade Bassett (@ade210365) July 13, 2015
"A group of people have breached the airport perimeter fence and are currently staging a protest on the northern runway," he said.
"We are working closely with the police who are dealing with the incident. Both runways are open although there will still be delays - we are sorry for the disruption to passengers."
READ MORE: Surfers, nuns & beekeepers march on UK parliament, demand action on climate change
A long-awaited report by the Airports Commission published on July 1 recommended Heathrow as the preferred site for a new runway, prompting vocal protests from London residents and green groups.
The report suggested Heathrow expansion could create 70,000 new jobs, however environmental groups argue it will increase the UK's carbon emissions at a time when scientists warn the world is on the threshold of irreversible climate change.
Local residents say the area will suffer from increased traffic congestion, while a village of 750 households could also be destroyed if the third runway goes ahead.