Surfers, nuns & beekeepers march on UK parliament, demand action on climate change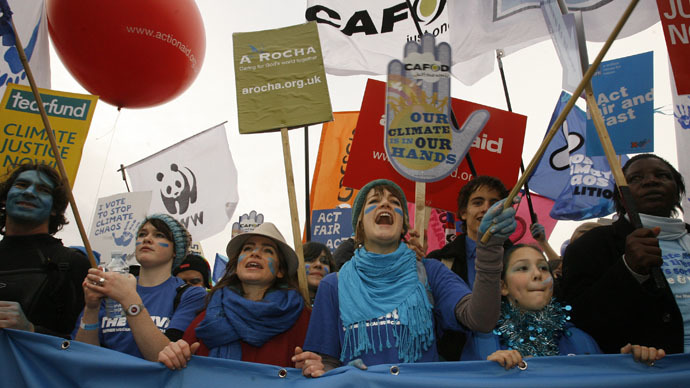 Climate change campaigners from across the country are converging on parliament Wednesday to call on the government to take concerted action on climate change.
READ MORE: German police clash with anti-G7 protesters day before summit
READ MORE: 'Another Britain is possible': Activists to protest Tory austerity, Human Rights Act repeal
The lobby, expected to attract more than 1,000 people, is urging the government to back a climate change deal which could see carbon pollution from fossil fuels stopped by 2050 and greater investment into renewable energies.
The protesters – a diverse range of nuns, anglers, beekeepers, surfers, doctors and wildlife lovers – are being joined by comedians and activists.
Comedian Arthur Smith, snowboarder Jamie Nicholls, rower Andrew Hodge and actress Sally Hawkins are all expected to attend the rally.
All 650 MPs have received an invitation to meet with their constituents outside parliament, with rickshaws arranged ready to transport them.
The event has been organized by the Climate Coalition, which is made up of various social, religious and environmental groups.
WWF-UK Chief Executive David Nussbaum said: "Everyone has a stake in beating climate change, and everyone has a role to play.
"For a long time scientists, business leaders and the public have understood the severity of the threat. At today's 'Speak Up' event, MPs will experience the depth of feeling that not enough has yet been done, and the breadth of support for strong action from this new parliament.
"2015 is a year when all politicians can make a difference. It's time to embrace a low-carbon economy that works for people and the planet."
Bee keepers to surfers gather in London for #SpeakUp march on climate. 200 MPs on richshaws set to attend. #bigbenpic.twitter.com/cPGaklxl4P

— Alex Pashley (@RTCC_Alex) June 17, 2015
Oxfam's head of UK campaigns, Nick Bryer, said politicians need to recognize the effect climate change is already having across the globe.
"Climate change is already happening and forcing the world's poorest people into living a life of hunger.
"Our politicians should be left in no doubt that the public see climate change as a global problem that affects us all and that we expect them to act in this important year to secure a safer future," he said.
Catholic nun Sister Karen Marguerite d'Artois OP, who is attending the rally with a Catholic food charity, also said the government has a "responsibility" to care for the "less privileged."
Energy and Climate Change Secretary Amber Rudd said she welcomed the protest: "I'm heartened to see the strength of feeling on tackling climate change from all parts of society from businesses to charities today," she said. "Getting a global deal to cut emissions is going to be tough, but the UK has been leading the way and will continue to do so."