Raging class war: Anti-gentrification protest in Camden, London, ends in violence
Published time: 12 Jul, 2015 15:45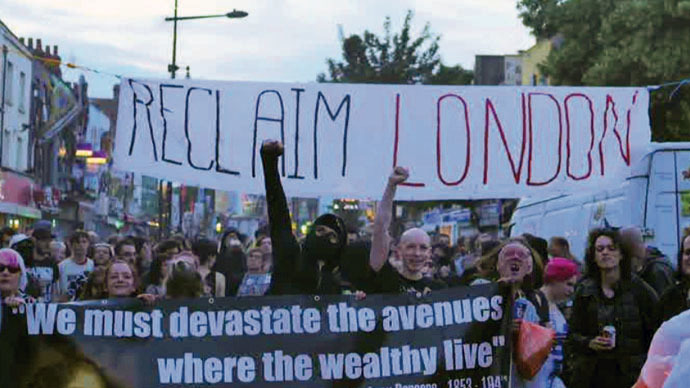 Scuffles broke out between anti-gentrification protesters and police in Camden with injuries reported on both sides. Five rally participants have been arrested.
A man has been hospitalized and two police officers suffered minor injuries after about 20 protesters started throwing bottles and pieces of wood late on Saturday, according to police.
Loads of riot police in #Camden after #ClassWar protest: Man being put into ambulance. Police lines closing streets https://t.co/QoUv3ekvHi

— HannahJane Parkinson (@ladyhaja) July 11, 2015
Five people were arrested on charges of causing disorder and they still remained in custody on Sunday morning, the Metropolitan Police Service reported.
2/2 this was quickly contained and several arrests have been made. An enhanced police presence will remain in place for some time.

— Camden MPS (@MPSCamden) July 11, 2015
The incident took place after a planned peaceful demonstration organized by an activist group and political party Class War and approved by the Metropolitan Police Service, which started in Camden town, London, on Saturday at 07:00pm local time.
READ MORE: 'Balls to the budget!' Activists resist Chancellor Osborne's emergency measures (VIDEO)
"A minority within the 'Class Wars' protest have sought to provoke disorder. Extra police resources have been brought in to assist," Camden police tweeted.
5 arrested and remain in custody after disorder in Camden last night. 2 police officers with fortunately minor injuries not needing hospital

— Camden MPS (@MPSCamden) July 12, 2015
Most of the event, promoted on Facebook under the name "The F**k Parade Strikes Back! - Reclaim Camden, Reclaim the Beats" was peaceful.
Riot police, ambulances, traffic jams and protest against gentrification happening in #Camdenpic.twitter.com/ekEq7mKnY0

— HannahJane Parkinson (@ladyhaja) July 11, 2015
Hundreds of participants gathered in Camden Town and marched to the bridge near Camden Lock, with some dancing to raucous music from bike sound systems and some firing colored smoke pellets.
Many protesters were chanting slogans and carrying banners and placards that read "Reclaim London", "We must devastate the avenues where the wealthy live," and "This is London, not Monaco."
READ MORE: 20,000 transport workers strike as Tube bosses 'squander' resolution opportunity
Shortly before the event, the organizers called for "standing up to gentrification" and saving Camden from "this onslaught of dog-eat-dog economics."
"The heart of Camden is being ripped out, pubs are being converted to luxury flats no one can afford, venues are under threat, the market is flogged off to be a casino (and yet more unaffordable flats) Rents are rising....fast," the organizers' Facebook post reads.
READ MORE: EDL calls for 'going mental' at Sheffield rally 'against child sex abuse'

"Soon this community will be an unrecognisable, bland, yuppie infested wasteland with no room for normal (and not so normal) people."
Two hours after the start of the demonstration, the crowd moved into the High Street forcing police to close the Camden Town underground station.
More pics. Protesters clashing in Camden with the police #London#protestpic.twitter.com/zzUBavuMz0

— Cat Denby (@CatDenby) July 11, 2015
After the situation heated up, additional police units including the Territorial Support Group and the Met dogs were brought in to assist and police reportedly managed to clear the area by 11:30pm local time.
1/2 A minority within the 'Class Wars' protest have sought to provoke disorder. Extra police resources have been brought in to assist.

— Camden MPS (@MPSCamden) July 11, 2015
Incident all under control and crowds dispersed #TeamDpic.twitter.com/xIBJXcHEXA

— Camden MPS (@MPSCamden) July 11, 2015