​20,000 transport workers strike as Tube bosses 'squander' resolution opportunity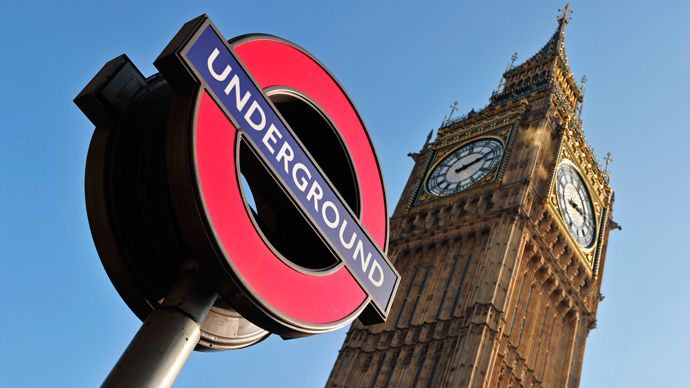 Workers from four London transport unions will take industrial action from Wednesday night, despite 'strenuous efforts' to cut a deal with Transport for London (TfL) bosses. The coordinated strike will be the biggest since 2002.
Up to 20,000 members of the Rail, Maritime and Transport union (RMT), the Transport Salaried Staffs' Association (TSSA), the Associated Society of Locomotive Engineers and Firemen (ASLEF) and general union Unite will start their industrial action from 21.30 BST on Wednesday.
READ MORE: Blue-collar Conservatives: RT asks 'Are the Tories really the new workers' party?'
The coordinated strikes center on two grievances: one concerns the introduction of nighttime tube services from September, while the other is about jobs and the replacement of Intercity 125 trains.
ASLEF's top negotiator Finn Brennan said: "The responsibility for this strike and the disruption that it will cause rests squarely with London Underground management.
"They squandered the window of opportunity to resolve this dispute by refusing to move their position in the slightest for three months and then demanding that all four trade unions accept an offer in one afternoon."
Speaking on Tuesday, after talks held at the Advisory, Conciliation and Arbitration Service (ACAS) collapsed, RMT general secretary Mick Cash said: "Despite strenuous efforts by union negotiators to press London Underground to address the issues of fairness, safety, work-life balance and equality at the heart of this dispute, they have come up with nothing in the talks this afternoon.
Strikes are always inconvenient, and strikers lose their pay. But this is why you should back the #TubeStrike: http://t.co/Omocw5S07r

— Owen Jones (@OwenJones84) July 8, 2015
"RMT is angry and disappointed that the company have ignored the massive vote for action by their staff and have instead opted to plough ahead with a series of actions that will decimate jobs, services and safety."
Aslef General Secretary Mick Whelan said the dispute was TfL's fault.
"The suspicion is that TfL don't really want to run the night tube, which is why, after months of not talking to us, they only improved their offer yesterday.
"We believe in the night tube because we believe that London deserves a 24-hour public transport service. But we also believe in a proper work-life balance for the drivers who are delivering that service."
For most of our staff, #NightTube will only mean a few extra nights per year. Striking is unnecessary #tubestrikehttp://t.co/W57MBT5OMk

— Transport for London (@TfL) July 8, 2015
In a statement, Steve Griffiths, London Underground's chief operating officer, said: "Our customers are advised to check the TfL website for the latest information as we seek to resolve the dispute and to keep London moving should the unions go ahead with their action.
"We are available for talks at ACAS all day," Griffiths said.
London Mayor Boris Johnson has attacked the strike plans, telling the Telegraph the action is motivated by those who are angry at the outcome of the general election.
Having to rearrange my life around this tube strike has just quadrupled my dislike of Boris Johnson... ✋

— Rania Ramli (@RaniaRamli) July 7, 2015
"It is entirely politically motivated," he said. "They are going ahead, bone-headedly, pig-headedly with this strike."
"There is an absolute determination to go ahead with the strike irrespective of the deal. There is no time like the present and there are a few hours left. Let's put the offer to the people."
He also said Tube workers were "well paid" and "privileged" and that the offer tabled by TfL was fair.
"That is the offer. There will be no change. They can strike until they are blue in the face. The night tube will go ahead."