EDL calls for 'going mental' at Sheffield rally 'against child sex abuse'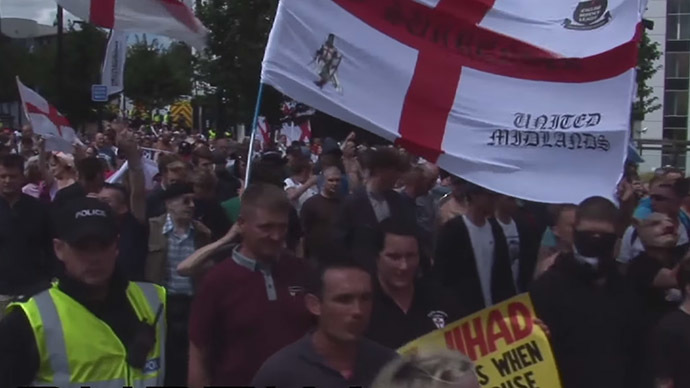 The far-right English Defense League held a protest in Sheffield against the city becoming a "pedophile's paradise," claiming that "racial and religious sensitivities" hamper police.
The march was met with a counter-rally, but no violence was reported.
EDL sympathizers gathered in Sheffield's Tudor Square around 12:30 on Saturday waving flags and carrying banners and signs, not all of which seemed to coincide with the stated aim of the protest or their regular messages. For example, slogans like "Death to Islam,""Muslim pedos go home," and "Let's go f***ing mental!" could be found upon placards displayed by the right-wing crowd. Afterwards, they marched from the square to the city's South Street Park.
EDL go "f**king mental" in Sheffield http://t.co/sWBmGttvX2pic.twitter.com/UGFvmcooFe

— Ruptly (@Ruptly) July 4, 2015
According to the Sheffield Telegraph, the rally was attended by around 200 EDL supporters, though 660 had joined the event on Facebook.
EDL's website and the event's page on Facebook say the demonstration in Sheffield was a "protest against the criminal activities of organized Islamist gangs operating there" as well as against "the failings of the south Yorkshire police and Sheffield social services."
.@TellMamaUK report: "Banner Inciting Hate Unfurled by EDL in #Sheffield" pic.twitter.com/NGP2CrHqsh

— Anti-Fascist Network (@AntiFascistNetw) July 4, 2015
The meeting was prompted by a March revelation that police had ignored reports about more than 200 girls being potential victims of sexual exploitation in Sheffield, mainly between 2007 and 2010.
READ MORE: 'Never Again': Counter-rally outnumbers neo-Nazi protest in London (PHOTOS)
"We have come down to highlight the failings in child protection, to protect the victims of sexual exploitation. It's been hidden and swept under the carpet," said Ian Crossland, Yorkshire regional organizer for the EDL, as quoted by the Sheffield Telegraph.
According to police, no arrests were made and no trouble was reported during the march. About 600 officers shadowed the rally, along with the counter-protest from Sheffield Unite Against Fascism and One Sheffield Many Cultures.
English Defence League (EDL) in Sheffield today. Look at the state of them. pic.twitter.com/CDg8vY6UgZ

— Junaid (@Its_JunaidS) July 4, 2015
Sheffield Unite Against Fascism posted a response to the EDL march on their Facebook page claiming that "nearly twice as many Sheffielders were out today than the racist EDL managed in their national mobilization," adding that the neo-Nazis "will never succeed in dividing people."
Around 600 officers from 9 forces were policing the EDL demo and counter protest in #Sheffield. There were no arrests pic.twitter.com/vuCqxSKUNM

— Mark Ansell (@MarkAnsell) July 4, 2015
The Sheffield Unite Against Fascism statement also calls the EDL "a symptom of racism and Islamophobia" and asserts that Sheffield is "a great city because it's a multicultural city."
Great turnout at One Sheffield Many Cultures protest against #edl in #Sheffield not wanted in our City pic.twitter.com/5PJ8BOmjA5

— Cllr Neale Gibson (@cllrnealegibson) July 4, 2015
READ MORE: Anti-Semitic neo-Nazi rally banned in Jewish Golders Green, moved to central London