​Anti-Semitic neo-Nazi rally banned in Jewish Golders Green, moved to central London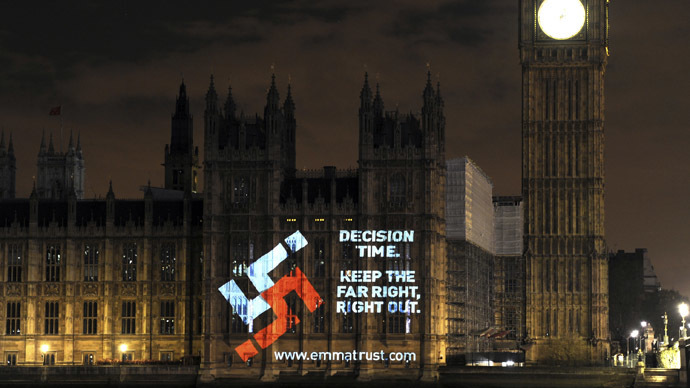 A neo-Nazi rally due to take place in a predominantly Jewish area of London on Saturday has been moved to a less inflammatory area after police intervened, it has emerged.
Fascist groups had planned to protest the "Jewification of Britain" in Golders Green on Saturday, the Jewish Sabbath, by tearing apart Israel flags and burning copies of the Talmud.
Metropolitan Police barred the demonstration from taking place in the traditionally Jewish area, moving the rally to Whitehall in central London.
The Campaign Against Anti-Semitism (CAA) claimed credit for the demonstration being moved, having lobbied the police for a month to "enforce the law as much as possible."
A counter-protest organized by the CAA, called "No to Nazis Here or Anywhere," has been canceled following the police intervention.
A group of neo-Nazis had planned to march through Golders Green, an area of London where one-fifth of the UK's Jewish population live that is generally seen as a safe haven for British Jews.
Joshua Bonehill-Paine, one of the organizers behind the neo-Nazi event, was remanded in custody on Friday on charges of inciting racial hatred.
The 22-year-old white supremacist is accused of writing a series of anti-Semitic blog posts on his blog.
READ MORE: Neo-Nazis threaten to burn Jewish Talmud, destroy Israeli flag at London march
Writing on his website prior to his arrest, Bonehill-Paine described the march as a "show of solidarity by English people who recognize that Israel is a corrupt state which is responsible for horrific war crimes."
The self-styled "nationalist, fascist, theorist and supporter of white rights" said a private ceremony would be held where copies of the Talmud, a Jewish holy book, would be burned and Israeli flags would be torn apart "by hand."
Bonehill-Paine added the protest would target Jewish Shomrim volunteers, describing them as "undemocratic and illegal."
Shomrim, the Hebrew term meaning "guards," are neighborhood watch organizations established by Orthodox Jewish communities in the US and Britain.
The CAA claims it is responsible for the Met's decision to move the protest away from Golders Green to central London. The group posted a statement from the Met on its Facebook page.
"After carefully considering all the facts surrounding this protest and counter-protest activity, including the impact on the Jewish and wider community of Golders Green, it is the assessment of the Metropolitan Police Service that the presence of these groups in the same area at the same time is likely to result in serious disorder, serious disruption to the life of the community and intimidation of others," the Met statement reads.
READ MORE: London Jews, anti-fascists to counter anti-Semitic neo-Nazi march
The rally will now take place as a static assembly in Richmond Terrace, Whitehall from 1pm.
Jewish charity the Community Security Trust said in a statement: "This will allow Jewish residents of Golders Green and the surrounding area to observe their Shabbat with integrity and dignity. And it sends a strong message of support for British Jews at a time when fears of anti-Semitism remain high."
"The neo-Nazis had sought to protest in Golders Green, as they have previously done in Stamford Hill, and as they plan to do in other areas with notable Jewish communities.
"We will not sit idly by when anti-Semitic neo-Nazis choose to spend their Saturday afternoons agitating against Jews in various areas of north London," the charity said.