​London Jews, anti-fascists to counter anti-Semitic neo-Nazi march
Published time: 9 Jun, 2015 16:09
Edited time: 9 Jun, 2015 16:49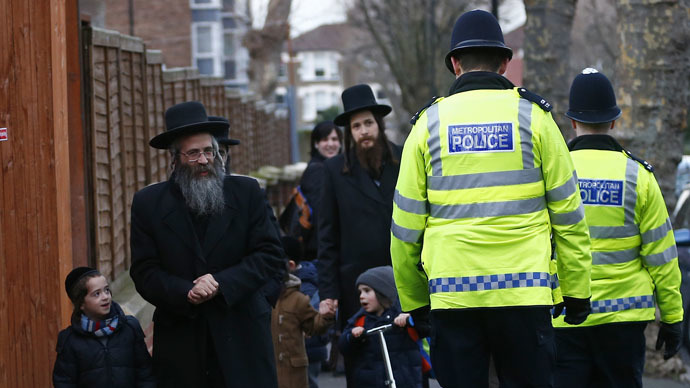 Anti-fascist groups will gather in London's Golders Green next month to counter a rally against the Jewish community by a far-right group modeled on Greece's violent neo-Nazi group Golden Dawn.
Jewish groups, anti-fascists and anti-racists have all condemned the event planned for Saturday July 4 in a district of London with a large Jewish population.
The far-right event will cause added offense as it is taking place on the Jewish Sabbath.
READ MORE: 1 injured, 6 arrested in London 'anti-Semitic' synagogue attack (VIDEO)
READ MORE: Rising anti-Semitism in British football, says sport watchdog
A group called Golders Green Together, composed of the London Jewish Forum and the anti-racist group Hope Not Hate, announced Monday it intends to rally opposition in the area.
Local Conservative MP Mike Freer appeared to take a non-committal, lukewarm stance toward the anti-fascist protest. He told the Jewish Chronicle on Monday: "We have to be careful we don't feed the egos of a relatively small group of people.
"We need to make sure we remain calm and don't let this far-right group get under our skin."
A petition urging Home Secretary Theresa May to ban the anti-Semitic march has reached 11,000 signatures, though the planned demonstration is static and thus cannot be banned under current law.
At the launch of the campaign on Monday, Rabbi Laura Janner-Klausner of the Movement for Reform Judaism criticized the lack of legislation while encouraging people to attend and oppose fascism.
"You are not allowed to march, but you are allowed to say these hateful things if you stand still, because of some loophole? That's a farce," she said.
"We have to make this show of strength."
In March, six people were arrested after a suspected assault on a synagogue in a predominantly Jewish London neighborhood.
One man was injured in what the Metropolitan Police called an "anti-Semitic incident."
Police increased patrols in the area after a video posted online showed a group of around 20 men breaking into a synagogue in the London suburb of Stamford Hill in March.
The attackers managed to enter the synagogue briefly, but were soon ejected by security guards. One witness told the Jerusalem Post that the mob shouted, "We will kill you."