Rising anti-Semitism in British football, says sport watchdog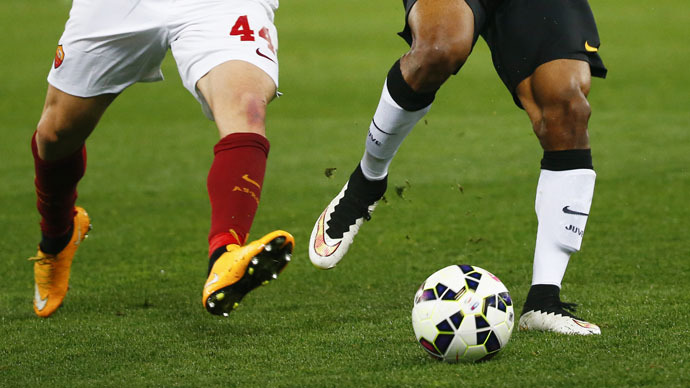 Anti-discrimination campaign Kick It Out has reported a spike in the number prejudiced acts in the first half of the current football season – more than in the whole of the previous one.
A total of 59 incidents occurred from August to the end of December 2014 – two more than in the entire previous year. Anti-Semitism was the second most prevalent form of prejudice expressed.
Last month, West Ham Football Club vowed to take action on any form of racism after fans burst into anti-Jewish chants on the London Underground when a group of Hasidic Jews boarded the service.
READ MORE: Anti-Semitic attacks reach record UK high, Israel's Gaza offensive blamed – study
A spokesman for the club told the Daily Mail: "If any individual is found to have behaved in an inappropriate way, the club's simple, zero-tolerance policy dictates they will face the strongest possible action, including the option of a life ban from the Boleyn Ground."
Tottenham Hotspurs backed the call for a crackdown, with their spokesman telling the newspaper: "Anti-Semitism in any form is wholly unacceptable and we support all efforts to kick it out of the game. We hope those individuals responsible for this vile behavior are identified and dealt with in the strongest way possible."
According to the Jewish Chronicle, last weekend's cup game saw Chelsea fans, on their way to see their team play London rivals Tottenham, using anti-Semitic chants, the lyrics of which made reference to Hitler's gassing of the Jews.
READ MORE: Rising anti-Semitism? One in eight Brits think Jews use Holocaust to get sympathy
The perceived rise in anti-Semitic prejudice comes in the wake of last year's Gaza War and the recent Paris attacks.
In January, posters promoting Holocaust Memorial Day in the London borough of Newham were sprayed with graffiti. Vandals scrawled "liars" and "killers" over them in red paint.
"I couldn't believe that anyone would stoop so low as to scrawl that graffiti – not something I expect to see in London in 2015," resident James Tattle told the Newham Recorder.
"This despicable and cowardly hate crime is an assault on the values of decency and mutual respect, which the vast majority of us share," he said.
READ MORE: 'Jewification of Great Britain': Anti-Semitic protest planned in London
January also saw the publication of a YouGov poll which asked 3,411 UK adults about their attitudes toward UK Jewish citizens.
It found 45 percent polled believed at least one anti-Semitic view presented to them was "definitely or probably true."
Many found clichés and stereotypes about Jews to be true. One in four believed Jewish people "chase money more than others," while one in six people felt Jews thought they were better than other people and had too much power in the media.
The Campaign Against Anti-Semitism (CAA), which commissioned the study, said in its Annual Anti-Semitism Barometer report that Britain was at a "tipping point."
You can share this story on social media: