Osborne's 'regressive' budget leaves 3mn households £1,000 worse off per year – IFS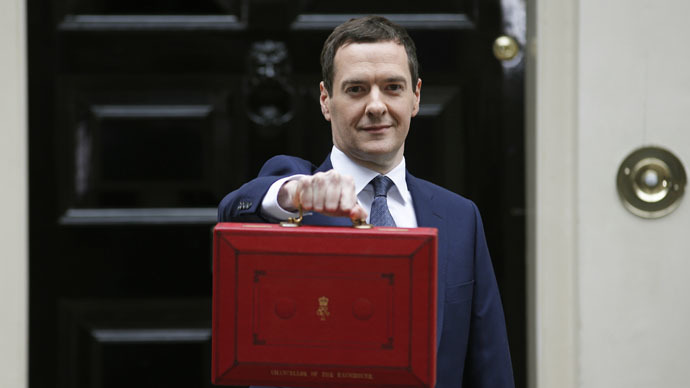 Some 3 million households across the UK will be £1,000 worse off each year following Chancellor George Osborne's emergency budget as slashed tax credits hit low-income earners hardest, the Institute for Fiscal Studies (IFS) warns.
While Osborne's announcement of a new "national living wage" for UK residents aged 25 and over is welcomed news for many, the economics think tank says the chancellor's budget package will leave more ordinary tax payers financially hindered rather than empowered.
Although the Chancellor has pledged to spend a total of £4bn on raising Britain's minimum wage, the majority Tory government will plough ahead with further welfare cuts totaling £12 billion (US$18.6 billion).
Our Tory-dominated media doing everything to ignore Osborne's Budget exposed as a raid on the working poor. Our free media. Our democracy.

— Owen Jones (@OwenJones84) July 9, 2015
Speaking on Thursday, IFS director Paul Johnson said Osborne's emergency budget was characterized by a number of "eye-catching" changes on previous budgets. He noted the chancellor's so-called long term economic plan had mutated yet again.
"In the March Budget, and indeed in the Conservative manifesto, we were promised [a] budget balance by 2018-19. That magic moment has now been shifted back to 2019- 20," he said.
Johnson said this, in part, indicates a less stringent path of spending cuts than was previously tabled.
But he insisted this "gentler path" is not representative of an overall reversal on government spending cuts, except in the area of defense.
At present, government health, foreign aid and defense departments are protected from further spending cuts. But apart from this, government spending in other departments will have plummeted by a third between 2010/11 and 2019/20.
Several of George Osborne's budget measures 'make no economic sense' say the IFS. http://t.co/RvbTBKTiJRpic.twitter.com/5aF3KPatDx

— politics.co.uk (@Politics_co_uk) July 10, 2015
Welfare cuts formed the center piece of Osborne's budget strategy. The government's decision to freeze working-age benefits, local housing allowance and tax credits until 2020 marks the Chancellor's biggest welfare cut. It is set to impact upon 13 million households across the state, which will lose £260 each year on average.
Commenting on the budget, Paul Johnson of the IFS said overall it was regressive.
In the run up to May 7, the Conservative Party vowed a number of changes to the government's so-called Universal Credit system. Johnson argues these proposed policy shifts would result in an average loss of £1,000 per year for 3 million families.
The government's shift to universal credit marked a radical overhaul of Britain's benefits system. Designed by Work and Pensions Secretary Iain Duncan Smith, it was supposed to incentivize work.
However, Johnson argues the government's most recent changes to the system dampen the incentive for welfare recipients to seek full time employment.
The 'living wage' may screw Labor but it's a v poor way to tackle poverty. Osborne should stick to tax cuts. My take: http://t.co/wVYiyPweq6

— Fraser Nelson (@FraserNelson) July 10, 2015
The IFS analysis was dismissed by Duncan Smith as inaccurate.
Speaking after Osborne had announced Wednesday's budget, he said the IFS calculations ignored the Tory pledge to offer 30 hours of free childcare per week to young parents. He also insisted an increase of the minimum wage would create more productive workers who would be more likely to progress further in their careers.
Oxfam's head of UK policy and campaigns Nick Bryer said the IFS analysis was of deep concern.
"We know from our work with poor communities across the UK that people living close to the poverty line are ill-equipped to adapt to sudden drops in income," he said.
"In practical terms it means families forced to choose between paying the bills or missing meals."
Save the Children director of UK poverty policy Gareth Jenkins argued children of families affected most severely by welfare cuts could see their futures impacted considerably.
"Our biggest concern would be that increases in financial hardship for the poorest working families will only further worsen the chances of their children to do well at school and escape the circumstances they were born into – a key goal of the Conservative government."