Ex-HSBC boss Green faces House of Lords grilling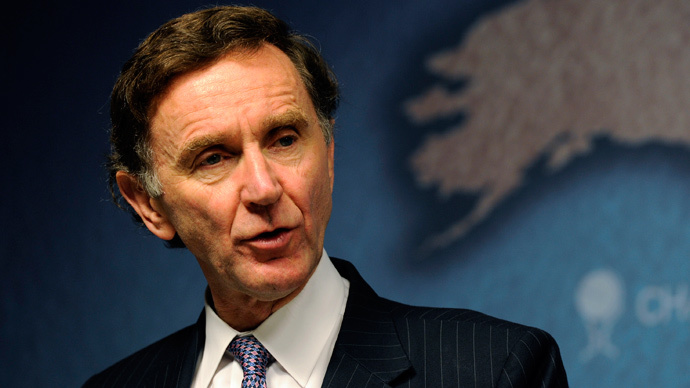 The scandal that engulfed HSBC's Swiss operation in February will come under the spotlight again, as the banking giant's former boss Stephen Green prepares for a grilling in the House of Lords.
Green, a Tory who left HSBC and was recruited to be minister of state for trade and investment in 2011, will give evidence to Britain's Economic Affairs Committee next week.
The committee is one of five wings of the House of Lords tasked with investigating economic affairs.
Critics warn the session, which examines the culture of banking in Britain, forms part of a wider-scale whitewash of HSBC's involvement in industrial tax evasion.
"why is Lord Stepehen Green not being pursued by the media?" - clearly because HSBC threaten to pull funding http://t.co/a7rECAG4wR

— Melissa Price (@melissa_price78) July 5, 2015
The banking giant came under fire after the International Consortium of Investigative Journalists published a report naming 100,000 clients that were using the bank to dodge taxes.
The revelations came from a list of HSBC's clients stolen by a former HSBC computer technician, Herve Falciani, in 2008. Falciani shared the confidential data with French authorities.
In 2012, it emerged the bank had failed to enforce anti-money laundering controls and deliberately breached US sanctions. It was also fined $1.9 billion (£1.2 billion) following allegations it aided terrorists in moving money around the globe.
Next week's session with the Economic Affairs Committee will be the first Green has undergone since stepping down as trade minister two years ago.
Lord Green 'regrets' HSBC scandal but still refuses to answer questions http://t.co/tT1PJbUCTapic.twitter.com/hIjRn3YqrG

— feather (@oohincensed) July 3, 2015
The Economic Affairs Committee will inquire whether banking giants such as HSBC are simply too big to manage and whether large-scale regulatory reforms are required.
In particular, it will consider whether US prosecutors' policy of doling out fines to firms is a better means of cleaning up banking than individual prosecutions.
Green will appear before the committee alongside Sir Win Bischoff, a veteran financier who was formerly a Lloyds Banking Group chief.
Bischoff currently heads the Financial Reporting Council.
Green and Bischoff will also be probed on the City's bonus culture as inequality remains high in Britain and the Conservative government continues to roll back the welfare state.
Last month, HSBC announced it is cutting 50,000 from its global workforce to reduce costs by up to $5 billion in the next two years. It said it wishes to simplify its structure and focus on the faster-growing Asian markets.
The bank is also considering moving its headquarters from the UK, and is expected to make a final decision on this before the end of 2015.