Youth homelessness 3 times official figures – Cambridge experts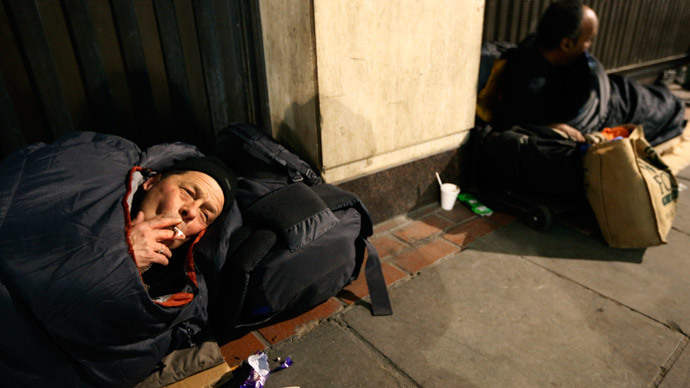 Homelessness among young people is three times higher than government figures suggest, according to a major study by University of Cambridge housing experts.
While the Department for Communities and Local Government puts the number of homeless 16 to 25 year olds at 26,852, the study by Cambridge University's Centre for Housing and Planning Research puts the real figure at more than 83,000.
The researchers said even this "worryingly high" projection is a minimum estimate – and that figures could well be much higher.
READ MORE: 'Over 8,000 people a week risk losing their house' – homeless charity
Balbir Chatrik, policy director of the homelessness charity Centrepoint, which commissioned the study, told The Independent: "Successive governments have been making policy in the dark as they have failed to grasp the sheer scale of youth homelessness in the UK.
The blame, according to Chatrik, lays with funding decisions which have put "extreme pressure on charities and local authorities, with the majority of hostels full or oversubscribed."
"Young people typically find themselves facing homelessness through no fault of their own. As a society, we owe them a national safety net devised from more than just guesswork," Chatrik said.
Other charity groups also responded to the findings, with Shelter's Campbell Robb telling the Metro newspaper: "If the government really wants to help young people, its first priority should be to invest in the safe, secure and genuinely affordable homes that are so desperately needed, rather than stripping away the threadbare safety net they have at the moment."
In a statement, a government spokesperson said: "Since 2010, we have increased spending to prevent homelessness, making over £500 million available to local authorities and voluntary sector."
READ MORE: Single homeless people must be supported by local govt, Supreme Court rules
In June, a report by homelessness charity Shelter found more than 8,300 people a week in England were at risk of losing their homes.
The London boroughs of Barking and Dagenham are the worst affected by Britain's housing crisis, with one in every 38 homes at risk of a repossession claim.
Shelter based its findings on the number of repossession claims issued in county courts between April 1, 2014, and March 31, 2015.
The charity compared figures from the Ministry of Justice with census information on the number of households in a specific area.
Shelter helpline adviser Nadeem Khan said: "We're hearing from thousands of people who have suffered in silence while they struggle to keep up with their rent or mortgage and come to us in desperation when the court papers finally land on their doormat."
You can share this story on social media: