Single homeless people must be supported by local govt, Supreme Court rules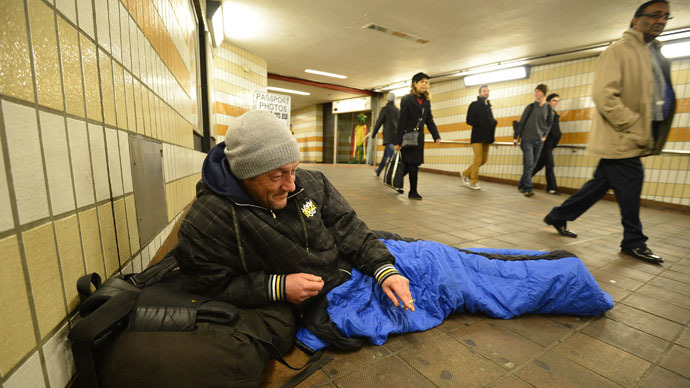 The Supreme Court has found in a landmark ruling that English councils will have to provide housing and support to single people who are vulnerable and homeless.
Ruling on the cases of three homeless men, the court found that one, Patrick Kanu, was wrongfully denied care.
Kanu applied for housing assistance with Southwark Council last year, but the council said he wasn't a priority, although he suffered from "multiple physical problems as well as psychotic symptoms and suicidal [tendencies]."
Kanu and two other men, Craig Johnson and Sifatullah Hotak, took their cases to the Supreme Court, which found on Wednesday that Kanu should have been a priority.
It ruled that Johnson and Hotak should not have been, but said Southwark Council should look closely at its protocols for Hotak.
READ MORE: Homelessness in London soars by 79% since 2010 – report
The court said councils assessing the needs of single homeless people should compare them with an "ordinary person" instead of another homeless person.
Jon Sparkes, chief executive of Crisis, a British charity for single homeless people, said: "This ruling represents a major step in tackling the injustice faced by so many single homeless people in England today."
"During our intervention in this case, the Court heard evidence of just how horrific a homeless person's life has to be before they qualify for council help. The average age of death for a homeless person is just 47; they are over nine times more likely to commit suicide and 13 times more likely to be a victim of violence. It's a scandal that someone facing this kind of life can be told they're not vulnerable enough for help.
"The reality is that anyone sleeping on the streets is vulnerable, and we applaud today's ruling for making it easier for people to get help. The Court is also clear that while councils are often under huge financial strain, this must not be used as an excuse for avoiding their legal duties."
READ MORE: 'Homelessness not a crime': Oxford's rough sleeping ban condemned
As a result of the ruling, councils must consider how vulnerable a person is compared to an ordinary person if made homelessness, not with an ordinary actual homeless person.
The court's decision will change the "vulnerability test" that councils use to decide which homeless people should be provided housing.
Before the ruling, single homeless people suffering from problems like depression and suicidal thoughts were deemed not to be vulnerable by local authorities because an "ordinary homeless person" would be expected to suffer from those problems. That means councils only had to provide housing if they decided an individual was more vulnerable than the average homeless person.
You can share this story on social media: