'Homelessness not a crime': Oxford's rough sleeping ban condemned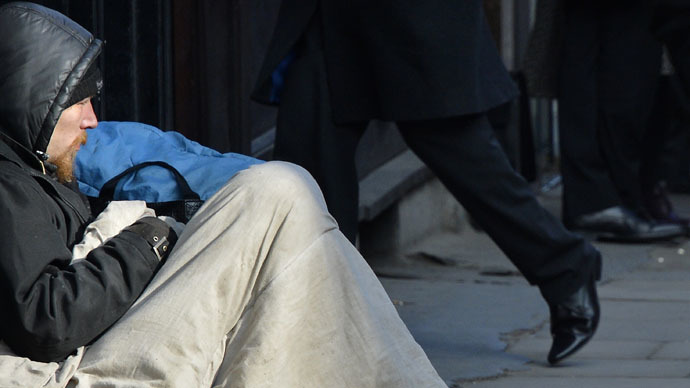 Oxford City Council has denied planning to "criminalize" rough sleeping in the university town, after 50,000 people signed a petition resisting plans to make "homelessness a crime."
While homelessness in the UK has increased by 6 percent in the past year, Oxford City Council has announced plans to ban rough sleepers under a new Public Spaces Protection order.
According to the Oxfordshire Community Foundation, Oxford has more rough sleepers than anywhere else in the UK apart from central London.
The council has proposed bans on "anti-social activities" such as rough sleeping, public drinking, pigeon feeding, busking and begging in Oxford city center.
RT or sign to join @OYDOxford 's fight against a ban on homeless people sleeping rough http://t.co/1ArRjXLNKE

— Change.org UK (@UKChange) April 8, 2015
During a debate on BBC Radio Oxford in March, Oxford councilor Dee Sinclair said the proposals were aimed at making Oxford a "world-class city."
Sinclair said such activities as rough sleeping made people in the area feel "uncomfortable."
An Oxford City Council spokesman told The Independent that only people "who are already receiving support and accommodation" will be affected.
Rough sleepers with a bed available to them in a hostel or shelter "could be fined" and those without shelter would be left at peace.
In a statement, Oxford City Council CEO Peter Sloman said: "It is untrue that the proposed order would 'criminalize' rough sleeping."
@OYDOxford Surely these proposals are targeting beggars who are using rough sleeping as part of their 'story'? Genuine RS won't be affected?

— Sam Lloyd (@Sambot_) April 9, 2015
"The experience of the team [working with homeless people] is that a small number of people continue to beg and sleep in the streets despite receiving support and having been allocated accommodation," he said.
The "outrageous" proposals have attracted major opposition. Campaign group On Your Doorstep launched a Change.org petition, which quickly attracted more than 50,000 signatures.
Very important petition—please sign! #Oxford City Council: Don't make life harder for the #homeless: http://t.co/EJJCv3vEGW via @UKChange

— Faraz Shibli (@FarazShibli) April 9, 2015
Petition signatory Faraz Shilbli, a postgraduate student at Oxford University, told RT he thinks the council's plan is "ridiculous."
"People don't choose to sleep rough," he said. "How does the council intend to check whether a rough sleeper is a 'genuine' homeless person? Have police question them and make checks on the streets?"
"We should be making the lives of these people easier, not worse, because homelessness is a big issue in Oxford," he said.
@Sambot_ 2/2 If so, forcing them out of the city centre makes them less safe, not more

— On Your Doorstep (@OYDOxford) April 9, 2015
Shilbli says the council's proposals "will result in the further stigmatization of the homeless and harassment by police."
He said Councilor Sinclair's statement on making Oxford a world-class city "smacks of [a] beautification project. This is a living, breathing city – not a museum," he said.
If Oxford wants fewer homeless people on the streets, they should "increase access to accommodation" not "misery and grief to push them away," Shilbli said.
Oxford's homeless. How can sleeping rough be criminalized? How about if they have a mattress? Legal? http://t.co/ZURl6LhEAZ via @UKChange

— Liam Jon (@GustavJee) April 9, 2015
Many on Twitter shared the petition link and encouraged others to sign, while branding the council's proposals "inhuman."
Oxford council make life more difficult for the homeless.as if there suffering isnt already enough.its inhuman ..

— Winnie ward (@winifredpward) April 9, 2015
"Oxford council [makes] life more difficult for the homeless, as if there suffering isn't already enough. It's inhuman," one user said.
Being #Homeless is NOT a Crime Oxford City Council: Don't make life harder for Oxford's #roughsleepershttps://t.co/rfONuuAXE0 via @UKChange

— EllieMc (@elliemc42) April 8, 2015
Another user said: "Being homeless is NOT a crime."
"To ban and criminalize 'rough sleeping' is to criminalize deep misfortune," another user said.
You can share this story on social media: