​'Over 8,000 people a week risk losing their house' – homeless charity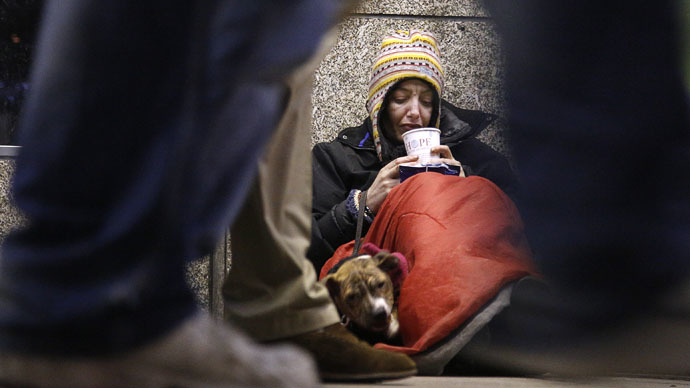 More than 8,300 people a week in England are at risk of losing their homes, a report by homelessness charity Shelter has found.
The London boroughs of Barking and Dagenham are the worst affected by Britain's housing crisis, with one in every 38 homes potentially at risk of a repossession claim.
Other cities in the country at risk include Slough, Manchester, Peterborough and Rochdale.
The worrying figures come as the average house price in Britain is pushed closer to £200,000, according to new research.
READ MORE: 'Criminalizing homelessness': Anger against Hackney Council's rough sleeping ban grows
READ MORE: Single homeless people must be supported by local govt, Supreme Court rules
READ MORE: UK inaction on housing crisis breaches human rights, say charities
Shelter based its findings on the number of possession claims issued in county courts between April 1 last year and March 31 this year.
The charity compared figures from the Ministry of Justice with census information on the number of households in a specific area.
It found one in 58 homes to be at risk of repossession in Slough, while the figure in Manchester was one in 66.
In London, the boroughs of Barking, Dagenham, Newham, Haringey, Lewisham, Hackney, Greenwich, Southwark and Brent were particularly vulnerable to high rates of repossession.
Shelter helpline adviser Nadeem Khan said: "We're hearing from thousands of people who have suffered in silence while they struggle to keep up with their rent or mortgage and come to us in desperation when the court papers finally land on their doormat."
Some 360,000 people visited Shelter's website last year seeking information on eviction and repossession, the charity added.
The shortfall of new houses has hit 136,000 a year, according to The Times.
An additional 100,000 homes need to be built each year in the capital alone to meet demand.
Halifax's latest house price index shows the average price of a house in Britain is £196,067, about £12,600 more than this time last year.
London mayoral hopeful Sadiq Khan has said he will make the housing crisis a priority if he elected to office next year.
The Labour MP for Tooting said he would give the green light to building developments on land owned by City Hall and use planning powers to prevent "buy-to-leave" investors from purchasing homes only to leave them empty.
Writing in the New Statesman on Friday, Khan said: "Fixing the housing crisis really is the greatest challenge facing my generation in London."
You can share this story on social media: