Black smoke overtakes London as 100 firefighters battle huge warehouse blaze (VIDEO)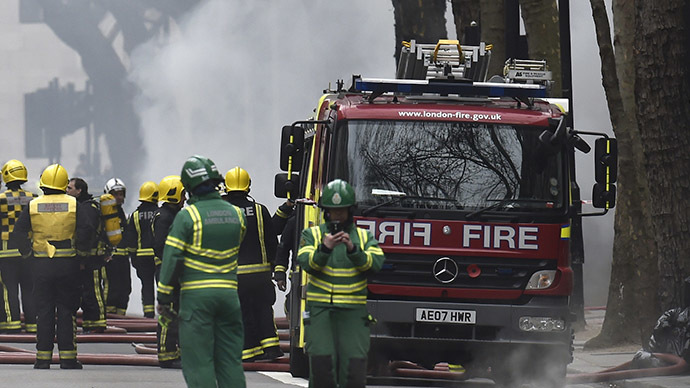 Around 120 firefighters and officers struggled against an enormous warehouse fire amid rising plumes of smoke in West London. Thirty people had to evacuate due to the dangerous flames.
The fire was so strong that it could be seen from miles away, with smoke spreading fast throughout the city.
Crews are dealing with a fire in a flat on York Rise in #KentishTown. More to follow... pic.twitter.com/E9IuadYaEH

— London Fire Brigade (@LondonFire) July 4, 2015
The London Fire Brigade has warned people to close their doors and windows to prevent the heavy smoke from getting inside their homes.
"This isn't a residential area but the smoke is travelling quite a distance so do keep windows and doors shut if you are local," Station Manager Jeff Lisle said.
The blaze engulfed a building on the Wadsworth Road, Perivale, with at least 30 people having to evacuate in order to escape the flames.
One of the team has taken the command support vehicle to scene. @LondonFire working hard on scene pic.twitter.com/vQzvZmdUkk

— Joint Response Units (@LAS_JRU) July 4, 2015
The structure was a two-story building, 50 x 20 meters, made up of industrial units.
There were 15 fire engines on sight fighting the fire. The blaze is now under control, but fire crews are still quenching left over hotspots in the building.
The fire on Wadsworth rd #Perivale is now under control. Crews will be damping down hot spots for some time. pic.twitter.com/s4S5wpH5id

— London Fire Brigade (@LondonFire) July 4, 2015
The cause of the fire is still unknown, according to local authorities.
@LondonFire I can vouch for the smoke pic.twitter.com/zeNwqre7rU

— Gary Guzzelled (@GaryGuzzelled) July 4, 2015
"I can see flames, debris and thick black smoke is just billowing out now as the whole building is on fire. It's just getting worse. I can see the heat from my bedroom window which is quite scary," local resident Vinesh Pomal told BBC. "I have never seen so much drama in Perivale before. I have friends from East London messaging me, saying they can see it."