Mayoral race: Galloway & Keiser vow to tackle financial crime in City of London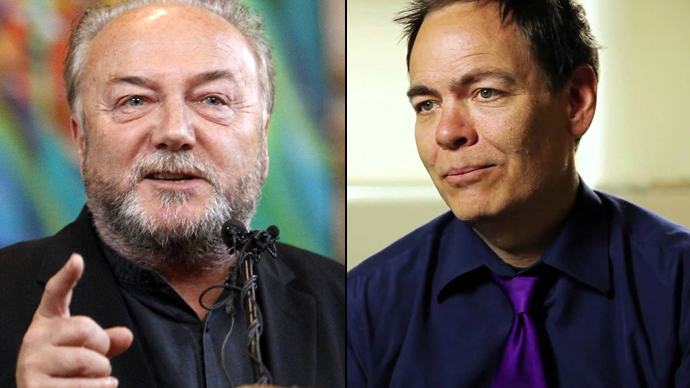 London mayoral hopeful and former MP George Galloway joined financial commentator and RT host Max Keiser on Wednesday to highlight rampant corruption and white collar crime in the City of London.
Both have long described London's financial district as an opaque haven of corruption peddled by speculators, financiers and an unaccountable elite. The pair convened at 18:00 BST in Liverpool Street's Railway Tavern.
Galloway, who lost his seat in Bradford West on May 7, launched his mayoral campaign at the end of May.
READ MORE: 'If I'm London mayor, Max Keiser will be economic advisor' – George Galloway
His campaign is focused on addressing soaring inequality in the UK and dodgy deals conducted in a climate of meek financial regulation. He also wishes to tackle corrupt financiers he says have "turned financial malfeasance into an ugly art form" as ordinary Londoners suffer.
"London has for too long been run in the interests of the 1 percent working in the City's glittering towers, whilst the vast majority of Londoners feel that their voices are not heard," Galloway said.
"I'm running because I want to represent every piece of the mosaic of this great city, which I have called home for 35 years."
Keiser formerly worked on Wall Street and now hosts RT's Keiser Report. A staunch critic of financial secrecy, he argues regulators must address Britain's mezzanine Private Finance Initiative (PFI) sector if tax dodging is to be tackled in the UK.
If elected as mayor, Galloway has pledged to place London's £18 billion budget online in the interest of transparency and accountability. Further cornerstones of Galloway's campaign are a pledge to tackle the housing crisis and to reform Scotland Yard.