'€3 each to save Greece': Crowdfunding campaign raises almost €1mn in 3 days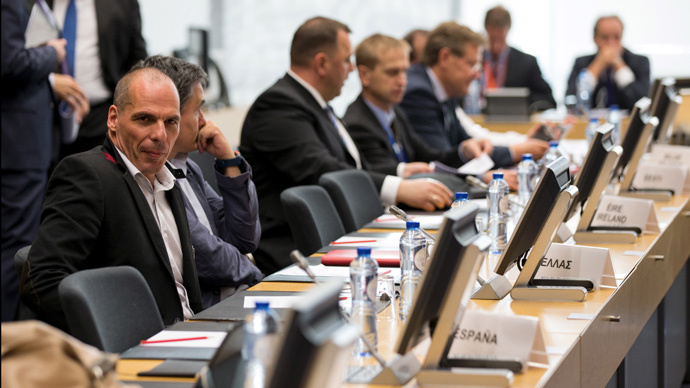 A British shoe shop worker launched a crowdfunding campaign to help Greece pay back its $1.8 billion IMF loan. The host website's servers crashed from the traffic as donations from across Europe approached the €1 million mark.
At time of writing, Thom Feeney, 29, had raised €911,815 through his IndieGoGo campaign in just three days with the help of 53,229 donors.
The London-based retail worker said if every European Union citizen contributed €3 Greece would be "sorted" and "back on track soon."
The online fundraising project comes as UK Prime Minister David Cameron says Greece should leave the Euro currency if it rejects the latest austerity proposals in a referendum Sunday.
Feeney launched the fundraising campaign on Monday after he became tired of the "dithering" response of European leaders to the Greek debt crisis and decided to take matters into his own hands.
Writing on the IndieGoGo campaign page, he said: "All this dithering over Greece is getting boring. European ministers flexing their muscles and posturing over whether they can help the Greek people [or] not. Why don't we the people just sort it instead?"
"The European Union is home to 503 million people, if we all just chip in a few Euro then we can get Greece sorted and hopefully get them back on track soon. Easy," he added.
Feeney encouraged all Europeans to donate €3 to the Greek bailout campaign, enough for everyone in the EU to have "a Feta and Olive salad for lunch."
READ MORE: Greece asks for new 2yr bailout program from creditors
The Yorkshire-born shoe shop assistant admitted he has never been involved in Greek politics before.
"I see the campaign as more of a helping the Greek people than getting involved with politics," he explained.
Speaking to AFP, he said he had received "hundreds, if not thousands of goodwill messages from across Europe" and Facebook friend requests "from about 30 different Greek women when I woke up this morning!"
The bulk of donations have reportedly come from Britain and Germany, two EU member states that have taken a tough stance on Greece's debt negotiations.
The campaign generated so much traffic that it overwhelmed the Indiegogo servers, crashing the website. The crowdfunding page is now down temporarily, telling curious surfers and would-be backers that it is down due "astonishing popularity" and that it "should be back up shortly."
We're experiencing connectivity issues due to overwhelming worldwide interest in the @GreekBailout campaign. Thanks for your patience.

— Indiegogo (@Indiegogo) June 30, 2015
David Cameron, meanwhile, said if the Greek people reject Europe's latest austerity package the country will have to leave the Eurozone.
Speaking on BBC Radio 4's Today program, he said: "If the Greek people vote 'yes,' they are voting for the sort of deal that was put forward by the institutions and therefore voting to have that as an option."
"If they vote 'no,' I find it hard to see how that is consistent with staying in the euro, because I think there would be a very significant default and a very significant problem. But it is for the Greek people to decide."
READ MORE: Debt crisis: Will Greece exit euro? LIVE UPDATES
Cameron said the government has already held contingency meetings to prepare for a possible Greek exit from the single currency.
Chancellor George Osborne has warned the British parliament not to underestimate the impact of a Grexit.
However the Chancellor said the exposure of UK banks to Greece was "far lower than it was three years ago," adding that the global stock markets' reaction to the crisis was "relatively contained."
According to analysts at Berstein, HSBC is the only British bank with "material exposure" to Greece, having lent roughly $6 billion to small- and medium-sized businesses in the country.
Osborne also took the unusual step of issuing holiday advice, cautioning holidaymakers visiting Greece to take hundreds of euros in cash in the event the country's cashpoints run dry.