Supermarket sells pork under Ramadan promotion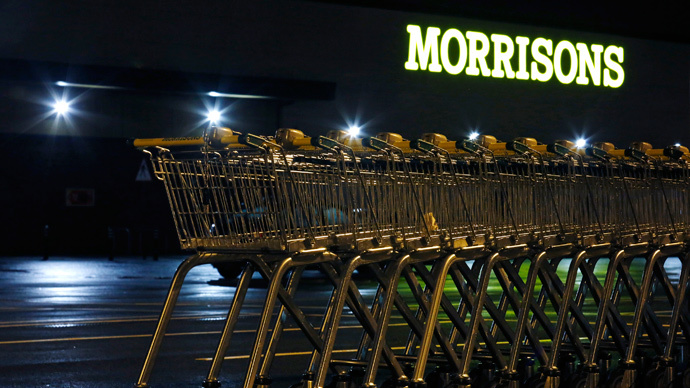 Supermarket chain Morrisons has come under fire and ridicule after displaying Ramadan promotional stickers next to pork products in two of its stores.
The gaffe, spotted by a London based Muslim and human rights lawyer, was seen as insensitive to Muslims fasting during Ramadan.
During Ramadan, which this year goes on until July 18, Muslims fast during daylight hours and refrain from eating or drinking. Pork products are also forbidden.
Shoabib Khan, who saw the stickers in a West London branch on a freezer containing pork sausages and pigs in blankets, tweeted the supermarket saying: "Oh come on Morrisons, are you trolling us?"
Oh come on, @Morrisons, are you trolling us? #RamadanMubarak on the "Pigs in Blankets" section? pic.twitter.com/ymBeHyhaT5

— Shoaib M Khan (@ShoaibMKhan) May 25, 2015
The supermarket quickly apologized, saying they were "really sorry" about the placement of the sticker.
Khan told the Evening Standard: "I don't think it's offensive but it's disappointing. If you're going to do something like that you need to do it properly. I wasn't offended but other Muslims might have been. They need to be careful about this sort of thing."
READ MORE: Ramadan fasting banned in 4 London primary schools
A second customer has since spotted a similar sticker above ham and cheese toasties being sold at a Morrisons branch in Bedford.
A spokesperson for the supermarket told the Daily Mail: "Somebody appears to have moved the sticker before the photo was taken. We can confirm that the Ramadan sticker is not near any pork products this week."
This is the second time in a week UK supermarkets have been called out for insensitive placement of Ramadan offers.
A branch of Tesco in central London caused outrage when a customer noticed smoky bacon flavored crisps were being sold on a Ramadan promotional stand.