​'No Clinton or JFK': Historian shines light on Winston Churchill's sex life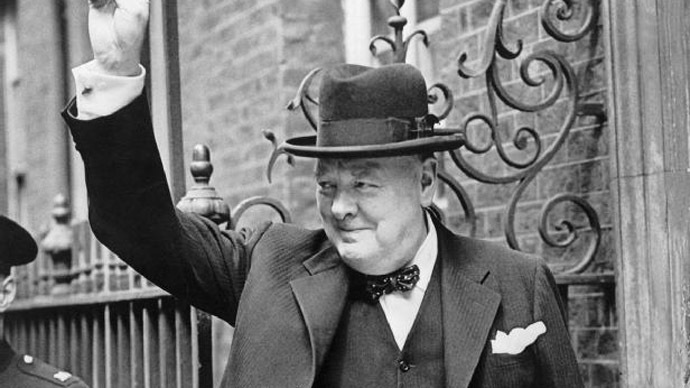 War-time British Prime Minister Winston Churchill rated women's attractiveness out of 1,000, told his mother-in-law how much he liked having sex with her daughter and was definitely not gay, according to a new book.
Historian Sonia Purnell focuses on Clementine Churchill, Winston's wife of 57 years, but also delves into his love life.
Speaking at the Chalke Valley History Festival on Thursday, Purnell said Churchill pursued romance with "gusto," but unlike other world leaders of history was not a "sexual predator."
READ MORE: Winston Churchill: Hero or villain? You told RT your views
While writing 'First Lady: the Life and Wars of Clementine Churchill', Purnell said she had discovered how, at high-society balls, Winston and his regular wingman Eddie Marsh would rate women's beauty according to a scale devised from the myth of Helen of Troy, assessing them according to how many ships their faces would launch.
A real beauty, in Churchill's eyes, would launch 1,000 vessels, while woman held to be unappealing might only launch "a small gun boat at most."
However, one woman who spent the night with him reported the young Winston was somewhat more mouth than trousers, saying: "Winston had done nothing but talk into the small hours on the subject of himself."
In the run-up to his marriage to Clementine, Churchill consulted a slightly unusual source.
READ MORE: Winston Churchill's sister-in-law urged him not to convert to Islam
"Winston was so determined the wedding night would go well he sought advice from an expert: his mother," Purnell said.
"She reputedly had had 200 lovers. She obviously gave very good advice and it all went terribly well, so he wrote to her thanking her for the advice and telling her 'we have loved and loitered.'"
Once wed, the peculiar habit of involving family members continued.
"Then, bizarrely, he wrote to Clementine's mother, Lady Blanche, saying he found sex a 'delightful occupation,' which is a strange thing to say to your mother-in-law," Purnell explained.
Purnell also talked down the idea that Churchill might have been gay, saying his marriage was the "real deal." He was much less of a sexual conquistador than other world leaders, she claimed.
"He wasn't a Bill Clinton with interns, he wasn't a JFK with actresses," she said. "He wasn't even a John Major with a certain Tory MP!"