Winston Churchill: Hero or villain? You told RT your views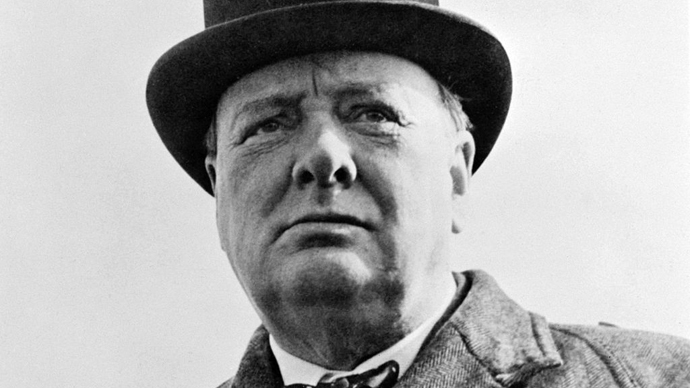 Britain commemorated 50 years since the death of wartime Prime Minister Winston Churchill on Friday. But how is the historic figure remembered? RT.com asked readers for their views.
The former PM, best known for leading Britain through World War II, was the subject of commemorations in London and around the UK on Friday.
The sometime Conservative, sometime Liberal politician is mainly known for leading a coalition government during World War II, of course, but also was a Chancellor of the Exchequer, First Lord of the Admiralty and a newspaper correspondent covering the Boer War. During his 1930s "wilderness years" he started a new career as a writer of patriotic history books, which he continued after World War II. Indeed, Churchill once said of his legacy: "History will be kind to me for I intend to write it."
#Winston Churchill: 50 Years. Imperialist, aristocratic, Tory...but the Greatest ever Briton! Thank God he was born! pic.twitter.com/iDEmvT4bdG

— Tim Treloar (@TimTreloar99) January 30, 2015
Churchill soon began trending on Twitter, as users paid their tributes by tweeting famous quotes from the famous cigar-munching war leader.
"If you're going through hell, keep on going – Winston Churchill," one user said.
Under the gaze of Churchill's statue in the Houses of Commons, Prime Minister David Cameron, who represents the Oxfordshire constituency where Churchill was born and buried, paid his respects.
Describing Churchill as the "greatest ever statesman," Cameron was joined by Labour's Ed Miliband and Liberal Democrat leader Nick Clegg.
"He believed that a nation was made great not just by its military might but by how its poorest and frailest citizens were treated," said Cameron, calling this a "huge part" of Churchill's legacy.
While many hailed the "huge inspiration" Churchill offers, others took a harder stance, calling the wartime leader a "monster."
@RTUKnews As a brutal racist extreme right wing wanker.

— Amy Wyatt (@Lewisno1fan) January 30, 2015
.@RTUKnews Churchill was a monster!! Created famines and starved millions of Indians to death. No difference between him and Hitter.

— Shiva (@aususa7) January 30, 2015
Some critics on Twitter refused to pay their respect, with one user telling RT Churchill was "someone who loved war and thrived on it."
The user said Churchill "hated equality and socialism."
Others further denigrated Churchill's memorial day, calling him a "racist" and a "monster who starved millions of Indians to death."
Another critic took to Facebook to express his dislike for the late PM, calling him a "traitor."
"This is the same PM who was prepared to allow Nazis to invade Scotland," the user added.
Another more diplomatic Facebook user chose to rise above the Churchill legacy debate: "As someone who is important historically but who was buried 50 years ago, we should worry about who is doing what now."
You can share this story on social media: