​'Approach Muslim extremism as we approached WWII' – ex-British Army chief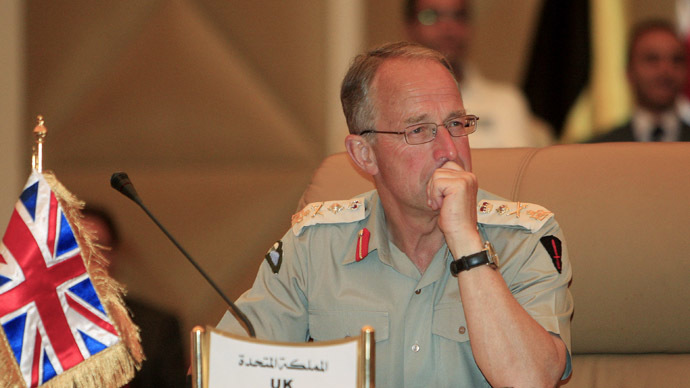 Britain must stop 'sleepwalking' and accept Islamic State (IS, formerly ISIS/ISIL) is an existential threat that must be defeated through 'military intervention,' according to the former head of the British Army.
General Sir David Richards, now known as Baron Richards of Herstmonceux, headed the British armed forces from 2010 to 2013.
READ MORE: Britain's 'dribbling' strategy: Top general blasts anti-ISIS efforts
Speaking at the Chalke Valley History Festival, Richards said: "I think the problem is that we have not seen that we need to approach this issue of Muslim extremism as we might approach World War Two back in the 30s."
He criticized the UK's political leaders who, he felt, were not doing enough to combat the IS threat.
"This is a real threat to us and we're sleepwalking in the way we're approaching it," he said.
Richards claimed time is running out to deal with the so-called Islamic State, which he called "an existential threat to all of us."
"In [a] generation, even in 10 years, a hell of a lot of damage is going to happen and it will continue to draw all sorts of people into their ranks and get stronger and stronger."
READ MORE: Govt deems security risks too low to 'exempt defense from austerity,' says think tank
There has been considerable debate over whether or not IS presents an existential danger to the West.
Prime Minister David Cameron has called the rise of this militant group a "mortal threat."
However, according to a study by the Royal United Services Institute (RUSI), the government privately considers the risks faced by the UK less than existential, a position which is reflected by current defense policy, particularly military austerity.
The RUSI report, published in March, concludes: "The government is not yet convinced that strategic security risks are high enough to justify an exemption for defense from austerity."
The investigation also indicates Britain is unlikely to meet the symbolic spending of two percent of GDP on defense expected by NATO.
You can share this story on social media: