​Britain's 'dribbling' strategy: Top general blasts anti-ISIS efforts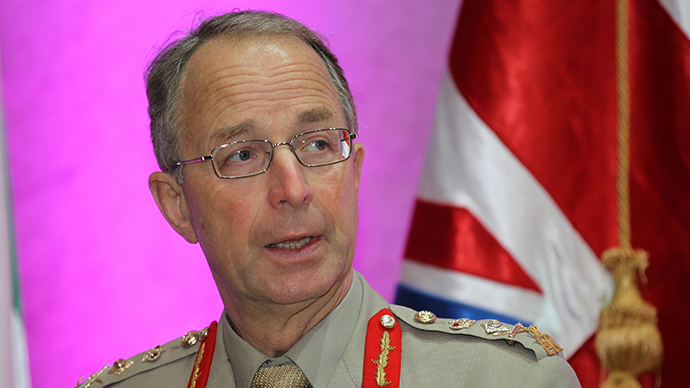 Thousands more Western troops should be deployed against the Islamic State according to former head of the British Army General Sir David Richard. He complains that the UK's strategy in the region is "dribbling" when it should be "clouting."
Richard also wants to see the Iraqi Army and Syrian rebel forces fight together more coherently. "I personally would put more Western troops into the support, training and mentoring role," he told ITV news.
The former senior officer warned that British strategy was "dribbling at the moment and needs to start clouting."
READ MORE: Bombed out? British jets striking Iraq running out of ammo, MoD to place new order
"I'd like to see an Iraqi army and a Syrian army of opposition groups properly brought together and told 'If you cohere and play this as a single entity you will get Syria back, but if you don't you won't," he added.
Richards, who led the British military in Afghanistan and later into war with Libya, lamented the lack of command dynamism on show.
"It's not rocket science, it just needs people with vision and leadership, all the things we've been traditionally quite good at.
"ISIS is the most serious threat of the moment. We can handle this threat but there is a lack of leadership and decisiveness at the moment."
Britain is already lending military expertise to the war against Islamic State by providing training for "moderate" Syrian opposition forces.
The UK has sent around 75 military trainers and headquarters staff to provide instruction in the use of small weapons, infantry tactics and medical staff. Britain's military training will take place in Turkey as part of a US-led program to support the "moderate" Syrian opposition.
READ MORE: UK military to train 'moderate' Syrian rebels in fight against ISIS
Defence Secretary Michael Fallon has insisted Islamic State (IS, formerly known as ISIS, or ISIL) extremists can only be defeated by local forces on the ground in Syria and Iraq.
He added that UK forces' "effective and closely coordinated activity in conjunction with Iraqi and Kurdish ground forces has largely stalled the terrorists' advances."
Fallon said coalition airstrikes were successful in supporting "the liberation of Kobani" and disrupting IS militants' "logistics and supply lines."
You can share this story on social media: