UK military to train 'moderate' Syrian rebels in fight against ISIS
Published time: 26 Mar, 2015 20:01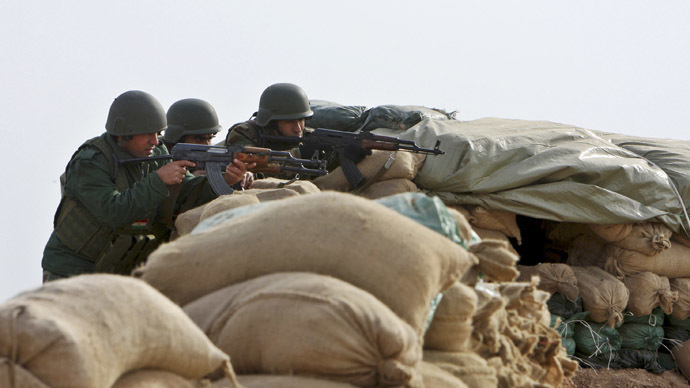 Britain will lend its military expertise to the war against Islamic State by providing training for "moderate" Syrian opposition forces, Defense Secretary Michael Fallon has said.
The UK will send around 75 military trainers and headquarters staff to provide instruction in the use of small weapons, infantry tactics and medical staff. Britain's military training will take place in Turkey as part of a US-led program to support the "moderate" Syrian opposition.
Fallon insisted that the Islamic State extremist organization (also known as ISIS, or ISIL) could only be defeated by local forces on the ground in Syria and Iraq.
The foreign secretary said Britain remains a leading force in ongoing international efforts to support Iraq in its fight against the terror group.
He added UK forces' "effective and closely co-ordinated activity in conjunction with Iraqi and Kurdish ground forces has largely stalled the terrorists' advances."
Fallon said coalition airstrikes were successful in supporting "the liberation of Kobani" and disrupting IS militants' "logistics and supply lines."
He insisted, however, that the responsibility for defeating Islamic State lay largely with "local forces."
READ MORE: Fallon talks up British forces' role in fight against ISIS, blasts MPs' verdict
Previously, Britain considered intervening in war-torn Syria in a more robust fashion.
In 2014, it emerged that a leading British general had drawn up a plan to train a massive, 100,000-strong army in Turkey and Jordan to defeat Syria's President Bashar Assad. However, the proposed invasion was later scrapped as too risky.
The rebels would have been trained by an international coalition armed with high-quality weaponry, and would have marched on Damascus with air cover provided by Britain and its allies. Critics said at the time the plot was reminiscent of the"Shock and Awe"campaign used in Iraq during the US-led initial invasion of the country in 2003.
Speaking to RT, Chris Nineham of UK campaign group Stop The War Coalition said the actions of the British government had impacted heavily on Syria's humanitarian crisis.
While the UK government publicly decries the Assad regime and other rebel groups responsible for grave atrocities in Syria, British policy has compounded the situation, Nineham said.
"UK foreign policy has been a contributing factor to the intensity of the civil war in Syria, including the supply of weapons to anti-Assad forces historically," he added.
Britain has already sent military instructors into northern Iraq to provide training for Kurdish Peshmerga forces. The government's latest training program in Syria is expected to begin in the next few weeks.
READ MORE: Revealed: Britain's secret plan for 100,000 Syria invasion force
The British government has also announced the UK will send two Sentinel aircraft to the region.
Britain intends to use them for battlefield surveillance in Iraq, and to track improvised explosive devices (IED). The RAF has also deployed Tornados and Reaper Remotely Piloted Aircraft (drones) in the war against Islamic State.
Fallon's announcement of Britain's latest training program follows a statement issued Wednesday in which the Defense Secretary rejected criticism from MPs that the UK's role in the war against IS was "strikingly modest."
Parliament's Defense Committee published a report in February asserting that the UK should do more, and that British military chiefs were not presenting a clear strategic plan in Iraq.
In a delayed response, Fallon defended the government's record against IS, saying that the UK was the second largest contributor to the coalition's airstrike campaign.
"We have played a major role in the military campaign from the start and have conducted 194 airstrikes in Iraq, second only to the US," he said.