Cameron vows to publish disability deaths stats after activists storm parliament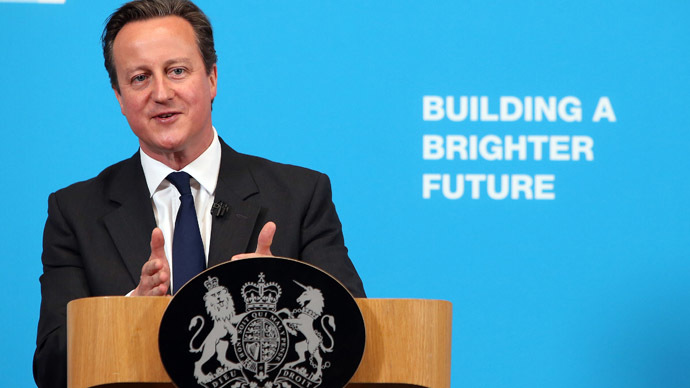 Figures detailing the deaths of benefits claimants who had their payments stopped are being prepped for release, Prime Minister David Cameron has said. He made the declaration after 30 disability rights activists stormed parliament on Wednesday.
The Information Commissioner has called upon the Department for Work and Pensions (DWP) to publish figures on the deaths of welfare claimants who died within six weeks of having their benefits cut. The figures span November 2011 to May 2014.
Campaigners argue many of the deceased were wrongly declared fit to work, prior to having their benefits stopped. Despite this fact, Work and Pensions Secretary Iain Duncan Smith previously refused to make the data public.
'An era of transparency'
After the government rejected a Freedom of Information (FoI) request demanding the figures be made public, a formal complaint was lodged with Britain's information commissioner. The commissioner ruled on April 30 the DWP must release the figures.
The commissioner, who seeks to uphold the public interest, gave the department a deadline of 35 days. A petition calling on the department to publish these figures had attracted over 200,000 signatures by Wednesday.
St Helens MP just forced the government to finally release embarrassing benefits figures. http://t.co/PYuwlY4TgNpic.twitter.com/7vqOk58sQD

— Tom Belger (@tom_belger) June 24, 2015
Addressing Cameron in the House of Commons on Wednesday, Labour MP Marie Rimmer inquired whether the government plans to comply with the Information Commissioner's ruling.
"You have repeatedly been reported as saying you want to create 'a new era of transparency in government,'" Rimmer told Cameron.
"Given your desire, why is [Duncan Smith] refusing to release the statistics relating to the deaths of people who have been declared fit for work."
Responding to Rimmer, Cameron said the data "is being prepared for publication."
"I think it is important we publish data and this government has published more data about public spending than any previous government," he said.
On Monday, Labour's Debbie Abrahams challenged Duncan Smith on his refusal to publish statistics on the number of people who died within six weeks of having their benefits stopped
Duncan Smith argued the department does not gather "numbers on people in that circumstance."
"It deals with individual cases where things have gone right or gone wrong and reviews them," he said.
'Despair of the disabled'
Thirty disability rights protesters were escorted from Westminster Palace by police on Wednesday after they attempted to storm the House of Commons.
The demonstrators, who were protesting against changes to Britain's Independent Living Fund (ILF), made their way across the lobby in wheelchairs and mobility scooters. Police and security guards quickly intervened, however, escorting them from the building.
The government is intending to scrap the ILF at the end of June, with responsibility for this funding devolved to local authorities.
The £320 million (US$504 million) fund provides 18,000 disabled people with essential financial support, so they can remain in their communities rather than in residential care.
Dennis Skinner was in full attack mode over cuts to disability benefits today pic.twitter.com/5B3lQ5tG95

— Alain Tolhurst (@Alain_Tolhurst) June 22, 2015
Labour MP Dennis Skinner praised the disability rights campaigners' gumption on Wednesday, saying their attempt to storm the House was "wonderful."
"It's outrageous – the idea that in order to cut the deficit we should bring despair on the disabled," he said.
A government spokesman told the Guardian state financial assistance for disabled people will soon be managed by local authorities.
"We are bringing support for Independent Living Fund clients into a single care support system managed by local authorities," he said.
"This will allow decisions to be made locally by democratically-elected councilors, enabling a more efficient, integrated and personalized service for everyone needing support."
And so the DWP washes its hands of the Independent Living Fund meltdown… https://t.co/ekyAhLedn4 via @Dis_PPL_Protest

— Anita Bellows (@AnitaBellows12) June 25, 2015
Disability rights campaigners have repeatedly warned welfare reforms implemented since 2010 have impacted severely on society.
Anita Bellows, a member of Disabled People Against the Cuts (DPAC), told RT these reforms have been detrimental for Britain's most vulnerable. Bellows, who is herself disabled, said claims the ILF will not be hit by planned policy changes are inaccurate.
"ILF users who have already been assessed by local authorities are reporting that they are not getting the same package as before," she said.
Bellows insisted "independent living" is a right for all disabled people, which is enshrined in international law.
She called for "a human rights approach to welfare" to ensure that claimants are getting the level of benefits required for a decent standard of life.