Disability protesters clash with police in attempt to storm Parliament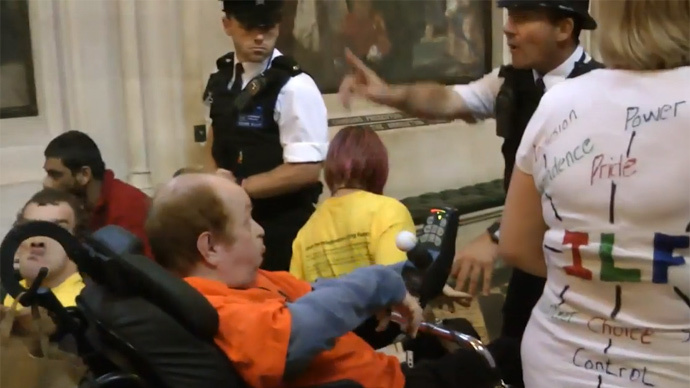 Thirty disability protesters were escorted from Westminster Palace by police after trying to storm the House of Commons during Prime Minister's Questions on Wednesday.
The demonstrators, who were protesting changes to the Independent Living Fund (ILF), made their way chanting across the central lobby in wheelchairs and mobility scooters and attempted to storm the Commons chamber.
Police and security guards quickly closed the doors on campaigners and escorted them from the premises.
Video courtesy of Kate Belgrave.
Broadcasters were reportedly told not to film the commotion, which took place as the Prime Minister took questions in the House of Commons.
The government is intending to scrap the Independent Living Fund at the end of June, with funding and responsibility devolved to local councils.
Massive disability rights protest in #Parliament Central Lobby- yet #PMQs continues like nothing happening.. #SaveILFpic.twitter.com/cwrs2lvVze

— Ali Picton (@AliPicton) June 24, 2015
The £320 million (US$504 million) fund provides 18,000 people with essential support.
One protester, Sally Booth, told the MailOnline disabled people will be effectively made prisoners in their own homes if the fund is scrapped.
"We want to get them to listen to us. We don't seem to be taken seriously. People I know are beside themselves with anxiety," she said.
With @FrancieMolloy Central Lobby talking to disability rights activists, before their direct action protest #saveILFpic.twitter.com/vl0WUxgx1J

— Jayne Fisher (@JayneBFisher) June 24, 2015
Labour MP Dennis Skinner praised the campaigners' guile, saying their attempt to storm the house was "wonderful."
"Of course I support their campaign. I think it's wonderful," he said.
"The government need to realize there are people out there that are not as fortunate as them and they need to be looked after better.
"The idea of cutting benefits for the disabled is a total disgrace. It's outrageous – the idea that in order to cut the deficit we should bring despair on the disabled.
"Yes, that was a good idea. That's what the Bullingdon boys did, except they did it with fire extinguishers in hotel foyers. The protesters [today] were more practical."
A statement from the Metropolitan Police said that access to the lobby was restricted for 30 minutes while officers dealt with the situation.
"At no point was security compromised" they added.