​True colors! Condom that changes color on contact with STIs invented by teens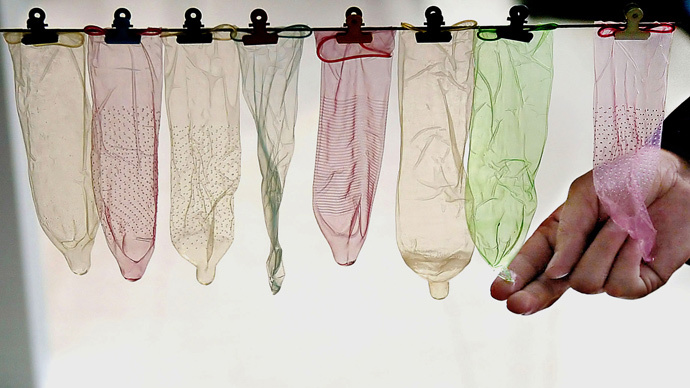 British teenagers have invented a 'smart' condom that changes color when it detects sexually transmitted infections (STIs).
Students at Isaac Newton Academy in Ilford conceived the idea as a way to help prevent the spread of STIs.
Inventors of the smart condom won first place in the TeenTech awards, bagging £1,000 prize money and a trip to Buckingham Palace.
Dubbed the 'S.T. EYE,' the condom features a layer of antibodies that interact with the antigens of sexual diseases, causing the rubber sheath to change colors depending on the disease.
The condom could turn green for chlamydia, yellow for herpes or blue for syphilis, the designers explained.
It may even be able to detect human papillomavirus, a disease which causes genital warts.
Daanyaal Ali, 14, Muaz Nawaz, 13, and Chirag Shah, 14 said they hoped the condom would prompt more people to seek treatment for STIs.
Ali said: "We created the S.T.EYE as a new way for STI detection to help the future of the next generation.
READ MORE: Casual sex apps blamed for rise in STDs – report
"We wanted to create something that makes detecting harmful STIs safer than ever before, so that people can take immediate action in the privacy of their own homes without invasive procedures at the doctors.
"We've made sure we're able to give peace of mind to users and make sure people can be even more responsible than ever before."
As well as the prize money, the boys have won a trip to meet Prince Andrew at Buckingham Palace.
The concept of color coded condoms raises interesting questions, says Daily Dot journalist EJ Dickson.
"It's unclear as to whether the condom detects both the wearer's and the recipient's STI statuses, or just the recipient's," Dickson writes.
"If the latter, that poses some obvious concerns for heterosexual women or gay men who take a passive role during sex."
Speaking to the Washington Post, Ali said the teenagers knew STIs were a huge problem in the UK.
READ MORE: 'Start slow, then go faster': Norway debuts explicit sex ed show for 8-year-olds (PHOTOS)
"We saw a gap in the market and we wanted to help people feel safer."
TeenTech CEO Maggie Philbin emphasized the color changing condoms are still at the concept stage, although the Washington Post reports condom companies have already approached the team.
"I think the reason the judges put this idea first was because the project showed how much learning these boys had done while researching STDs," Philbin said.
Other ideas featured in the competition include a bracelet capable of measuring the users' pulse; it sends a GPS location to the emergency services if it detects panic.
Another group of students developed an app that calculates the monetary value of household chores with the intention of helping children argue for increases in pocket money.
You can share this story on social media: