Children fleeing warzones illegally held in adult detention centers, investigation finds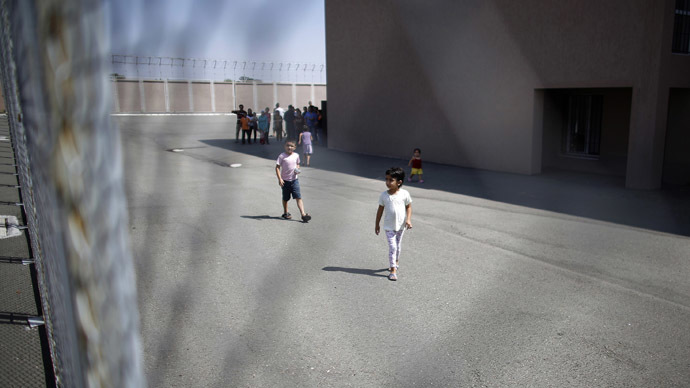 Vulnerable children fleeing warzones in the Middle East are being wrongly classified as over-18s and imprisoned in adult detention centers, despite the government having outlawed child detention, a report has said.
The Bureau of Investigative Journalism discovered UK border and asylum officers are sending teenagers as young as 14 straight to adult detention centers, where they are subject to conditions described as "distressing" and "scary."
This takes place without referring them to social services, as they are supposed to under government guidelines.
Campaigners have called on the Home Office to change their conduct, ensuring each person who claims to be a child is entitled to a proper assessment.
A three month investigation by Maeve McClenaghan of the bureau revealed that five children have been found to be detained in the notorious Yarl's Wood detention center since the start of this year.
Some 127 minors have been wrongly classified as adults in UK detention since 2010, although lawyers claim this could be the tip of the iceberg.
This comes despite former-Deputy Prime Minister Nick Clegg announcing a halt to child detention in May 2010, meaning children could only be held in special child-friendly facilities and only for a maximum of seven days.
The bureau's investigation found border staff members are refusing to believe young asylum seekers who claim to be children.
READ MORE: Yarl's Wood detainee reports better treatment since protests (VIDEO)
Immigration officials assess asylum seekers in an initial screening interview upon entering the UK.
Government guidelines stipulate that those claiming to be children should be given the benefit of the doubt and referred to social services for an official age assessment.
However if they look or behave in such a way that suggests they are "significantly over 18 years of age," border staff are allowed to decide for themselves.
As a result of this loophole, children as young as 14 have been assessed as adults and sent to detention centers such as Yarl's Wood.
According to the bureau, only one in 10 (117 out of 1,159) Home Office asylum case workers has sufficient child safety training to allow them to make decisions on children.
Their method of determining age is described as "particularly unreliable" when it comes to boys from countries around the Middle East, some of whom have early onset of facial hair and therefore appear older than European or East Asian children.
Children who are sent to detention centers find it very difficult to challenge the Home Office decision, with many being forced to wait months before they are assessed by councils' child experts.
In a case study, the bureau quote a child named 'Rauf', who describes his experience in Harmondsworth detention center near Heathrow Airport in stark terms.
"There are no words to describe the horror of detention: it was a prison. I struggled. I still have nightmares. I don't know how someone can decide your age in 10 minutes. Detention is devastating," he said.
Bureau reporters also attended an immigration hearing with an Afghan boy who claimed he was 15 years old, but had been unable to get an age assessment because the local authority did not have any free slots.
READ MORE: 'I just wanted to die': Asylum seeker detained at Yarl's Wood speaks to RT
The judge was unsympathetic and, in a pre-trial hearing, said "The burden is on him [the applicant]. It seems there is no realistic prospect on the horizon that an age assessment will be carried out."
The legal proceedings continued as if he were an adult.
"This is clear evidence that immigration officials are getting it wrong and there are no safeguards in place," the Refugee Council's Judith Dennis said.
"We really don't think immigration officials should ever be assessing people's ages – the stakes are too high. Everyone who claims to be a child should have a timely, sensitive, lawful age assessment carried out by social workers."
A Home Office spokesperson said: "In the last Parliament, we ended the detention of children for immigration purposes. In doing so, we fundamentally changed the system to ensure that the welfare of the child is at the heart of every decision we make.
"In some cases, adults claim to be children in order to access the specialist support we offer – denying that support to those who genuinely need it.
"The Home Office works with a range of organizations – including the UNHCR, the Association of Directors of Social Services, and a number of children's charities – to ensure that our age assessment process is fair and robust."