Deter Mediterranean migrants with 'well-focused' aid – Defence Secretary Fallon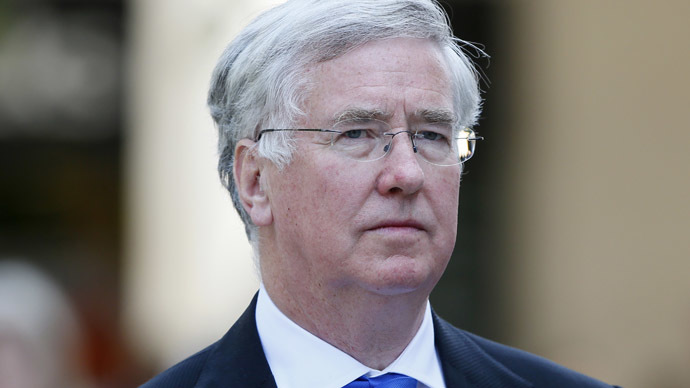 Britain should use its foreign aid budget to deter immigrants attempting to enter Europe by making the perilous crossing of the Mediterranean, Defence Secretary Michael Fallon has said.
The Conservative minister said the government needed to tackle the "roots" of the problem, rather than only dealing with the consequences.
Speaking to the BBC's Andrew Marr Show, Fallon said the response needed to be "well-focused aid" projects to restabilize the countries from which thousands are attempting to flee.
READ MORE: Britain to boost its military presence in E. Europe to 'strengthen NATO'
"I think we can pool the intelligence we all have, get more information about the roots, and use overseas aid budget to help stabilize some of these countries and discourage mass migration from them.
"Well-focused aid should be used to help stabilize these countries, to prevent conflict, to discourage mass migration, so that we don't have to fish people out of the Mediterranean later on," he said.
Prime Minister David Cameron has previously suggested that sections of the foreign aid budget could be used to aid the Mediterranean migrant crisis.
At the G7 summit earlier in June a source said: "One of the things we are looking at is whether we could be doing more at the source of the problem. That doesn't only mean border security; it could be economic development."
British warship HMS Bulwark has rescued more than 3,000 migrants attempting to cross the sea, but there is mounting pressure on European nations to do more to tackle the problem.
Italian Prime Minister Matteo Renzi said last week his country, which has seen thousands of migrants stuck at railway stations as border authorities attempt a clamp down, would "cause Europe harm" if it did not respond adequately to the crisis.
READ MORE: Britain doing more than other EU nations to fight ISIS – Fallon
Earlier in the week, Fallon further said states must disrupt the traveling routes "much further back in Africa" that the Libya coastline.
Speaking before a meeting with other foreign ministers, he was asked whether a total blockade of the North African coast was a solution.
"That's a matter for Europe to see," he said. "It's a very long coast, over 1,000 miles long. A blockade required 40 ships last time it was done three or four years ago. So that is a difficult operation."
"I think what's more important is to pool intelligence we have, to go much further back in Africa, and establish the pattern of these trafficking routes and bear down on the criminal gangs that are organizing this migration."
"We know already that traffickers are ringing the Italian coastguard and telling them when the boats are setting off. So we need to get to grips with the operation itself and start to tackle the trafficking routes further back," he added.