Britain doing more than other EU nations to fight ISIS – Fallon
Published time: 4 Jun, 2015 16:21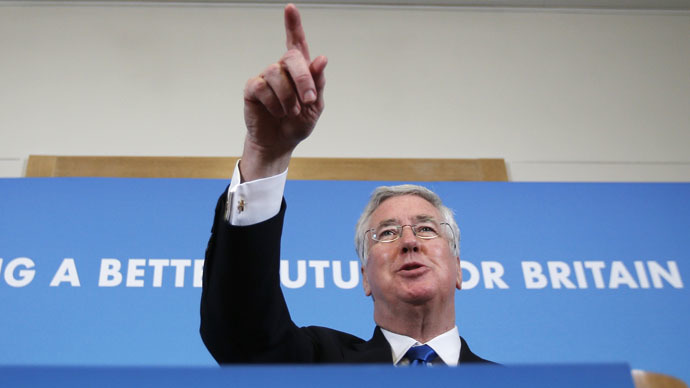 Far from being a diminishing power, the UK is contributing more to the fight against Islamic State than any other EU member state, according to Defense Secretary Michael Fallon.
Ahead of a Paris meeting with his French counterpart, Jean-Yves Le Drian, to discuss the fight against Islamic State (formerly ISIS/ISIL), Fallon told The Telegraph that the UK is "doing more than any other country in fighting the Daesh [ISIS] directly."
READ MORE: Britain's 'dribbling' strategy: Top general blasts anti-ISIS efforts
READ MORE: Public 'weary' of war – Hammond on eve of anti-ISIS coalition conference
"It's not an Olympic Games, but it is a fact that we have carried out the second highest number of strikes after the US (on around 4,000 strikes), we are making – after the US – the biggest contribution in terms of Istar (surveillance and intelligence), and we are heavily involved in the train and equip program in helping counter IED."
Responding to recent claims by US Defense Secretary Ashton Carter that UK defense cuts indicated Britain was losing its status in the world, Fallon said: "We have the fifth biggest defense budget in the world, and the biggest in Europe. I simply don't recognize this."
"When the crisis arose off the coast of Italy, our cabinet decided we are the biggest navy in Europe and we ought to be leading.
"We sent our flagship HMS Bulwark, and she has rescued more than a 1,000 people already. When the call comes, Britain is there."
Some of Fallon's comments contrast sharply with those from senior British military figures, however.
In April, the former chief of the British Army, General Sir David Richard, called for the deployment of thousands more Western troops to fight ISIS, complaining the UK's strategy in the region was "dribbling" when it should be "clouting."
"I personally would put more Western troops into the support, training and mentoring role," he told ITV News.
Richard said he also wanted to see the Iraqi Army and Syrian rebel forces fight together more coherently.