Tony Blair attends Russian economic forum, days after receiving Ukrainian job offer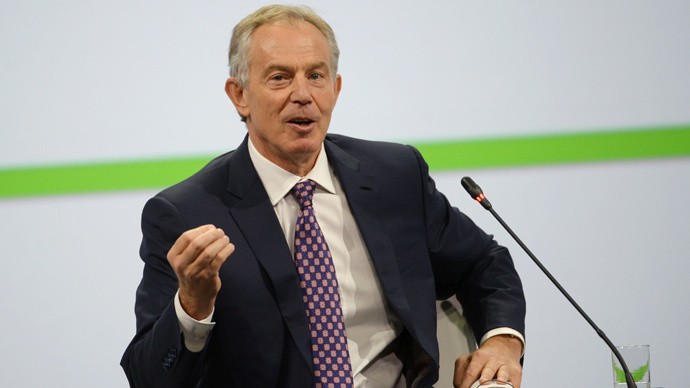 Tony Blair appeared at the St Petersburg Economic Forum in Russian President Vladimir Putin's hometown on Friday, where the former UK prime minister advised business leaders on ways they could improve their performance.
READ MORE: 'True friend of Ukraine' Tony Blair tapped by Poroshenko to join Kiev advisory council
His appearance on the panel came just hours after he was offered a job by the Ukrainian government.
Blair advised Russian businessmen on how they could learn from his delivery unit, which he initially rolled out in Downing Street to help speed up hospital reforms. He did not touch on the economic impact of Western sanctions on Russia.
The St Petersburg International Economic Forum, designed to mirror the World Economic Forum, has been boycotted by some Western companies in recent years, who have taken their lead from the UK and US governments.
The former PM addressed Russian and foreign business leaders and investors alongside Sberbank CEO Herman Gref. Russia's biggest bank has suffered losses following the imposition of Western sanctions.
Blair's appearance, in a session called "Crisis Mitigation Policies: The Need for Government Reform," came just hours after Ukrainian President Petro Poroshenko announced he had offered the former UK prime minister a role on his advisory committee.
Poroshenko said Thursday that Blair was a "true friend of Ukraine," saying he had "expressed firm support for Ukraine, its independence, sovereignty and territorial integrity."
READ MORE: Tony Blair accused of 'conflict of interests' after extravagant lifestyle revealed
"The British politician emphasized that the world community had a great desire to support Ukraine and asked the president what practical international assistance was necessary for Ukraine," an official statement read.
"Petro Poroshenko invited Tony Blair to share his experience of public administration within the Advisory International Council of Reforms under the President of Ukraine."
Blair's extensive network of business interests now includes an oil firm in Saudi Arabia, American bank JP Morgan Chase, and various Chinese clients.
The former PM's spokesperson said: "Mr Blair participated on a panel talking about the need for government reform.
"He discussed leading reform programs and improving the delivery of public services, having established the Delivery Unit while Prime Minister and worked on the issue of governance since leaving office. He received no fee."
On his business in Ukraine, the spokesman added: "President [Poroshenko] asked him to join his reform council yesterday on a voluntary basis, but no decisions have been made at this stage."