​Tony Blair accused of 'conflict of interests' after extravagant lifestyle revealed
Published time: 12 Jun, 2015 11:47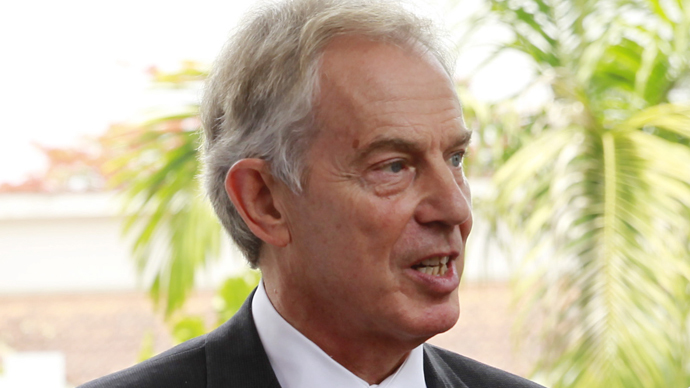 Secret documents reveal Tony Blair has led a life of opulence since leaving British politics, regularly staying in 5 star hotels, flying on private jets and meeting the worlds' richest and most powerful.
An expose by the Telegraph shows how the former prime minister uses private jets loaned by American industrialists, private clients and governments he advises.
He is protected by 12 publicly funded armed Metropolitan Police officers whose presence costs the UK taxpayer up to £16,000 a week.
When working abroad the ex-PM has a grueling schedule. In one week in February 2012, he visited Israel, the UAE, Qatar, China and Kazakhstan, combining charity with private business.
Blair has long denied any conflict of interest between his role of Middle East Quartet envoy – which he stands down from later this month – and his private business interests as a consultant to governments and companies around the world.
However, documents raise fresh questions about Blair's professional conduct and his lavish lifestyle.
Five star hotels
Suites in luxury hotels are the norm for the former PM, who also sometimes conducts business meetings in his hotel room.
READ MORE: Tony Blair warns of 'severe defeat' if Labour moves left
In Abu Dhabi, Blair stays at the Emirates Palace, a hotel so luxurious it describes itself as being "beyond 5 stars." A typical suite here costs more than £7,000 per night, though it's not clear how much Blair spends.
Opened in 2005, Emirates Palace boasts a private beach stretching 1.3 kilometers, its very own marina overlooking a private bay, two swimming pools and a 24-hour private butler catering service for each suite.
In Doha, Blair stays at the Four Seasons, where rooms cost between £250 and £600 per night. It's not known which room the former PM stays in.
A modest suite in this hotel features a separate living room and step-out balconies with "incredible sunsets" overlooking the city. A top end suite comes with "two palatial levels of living space," king bedrooms, a guest waiting room and a private office.
Blair's penchant for opulence extends wherever his work takes him. While in Beijing, he stays in a presidential suite with rates of £4,000 a night. When visiting Kazakhstan, where he conducts business with the repressive President Nursultan Nazarbayev, he lodges in a 5 star hotel costing £160 to £3,600 a night.
Friends in high places
As one might expect for a former leader of a G7 nation, Blair is very well connected.
The ex-PM hobnobs with the richest and most powerful in the world – from Google co-founder Sergey Brin to Prince Alwaleed bin Talal of Saudi Arabia.
READ MORE: 'Super-rich, me? Absolutely not': Tony Blair says just lucky, despite lucrative business, property empire
On a two-day trip to the US in July 2011, Blair had a 30-minute meeting with influential business magnate George Soros in New York City.
The same night, he met Israeli international hedge fund adviser Avi Tiomkin and his wife for drinks. Tiomkin was called one of Israel's most successful investors by Israel Business Today.
On a trip to California, Blair had a morning meeting with Google co-founder Sergey Brin, before speaking at a JP Morgan conference.
His role as Middle East Quartet envoy gave him a unique opportunity to forge close relationships with influential Arabs.
Blair has reportedly been cultivating a relationship with Prince Alwaleed bin Talal of Saudi Arabia, a man Time magazine dubbed the "Arabian Warren Buffett" and the 26th richest man in the world in 2013, according to Forbes.
Blair also has close business relations with dubious heads of state, including the notoriously autocratic Nursultan Nazarbayev of Kazakhstan. The former PM reportedly advised Nazarbayev on how to manage his image after the slaughter of unarmed civilians protesting against his regime.
Conflict of interest?
Blair often combined official business as Middle East Quartet envoy with private business meetings, according to the Telegraph.
In one meeting in January 2011, Blair – who was acting at least partly as Quartet envoy – was joined by Stephen Kriesel, then head of his private government consulting service.
READ MORE: Tony Blair to head European council on anti-Semitism
Documents seen by the Telegraph suggest Blair took advantage of close relationships he built up with the World Bank while working as Quartet envoy to gain a £1.1-million contract for his consulting firm, Tony Blair Associates.
Within his private enterprise, the former PM is an adviser to the sovereign wealth fund of Abu Dhabi. However, as Quartet envoy, Blair also secured over $45 million in funding from Abu Dhabi for the Palestinian Authority.
A spokesperson for Blair said the wealth fund the ex-prime minister advises on and the money given to Palestine came from "separate organizations."
The former PM "absolutely never used his position as a Quartet representative to further business interests."
Blair's office insists there are strict procedures in place to avoid such conflicts of interest.