​Brexit rebellion? Eurosceptic Tory & Labour MPs unite over EU referendum date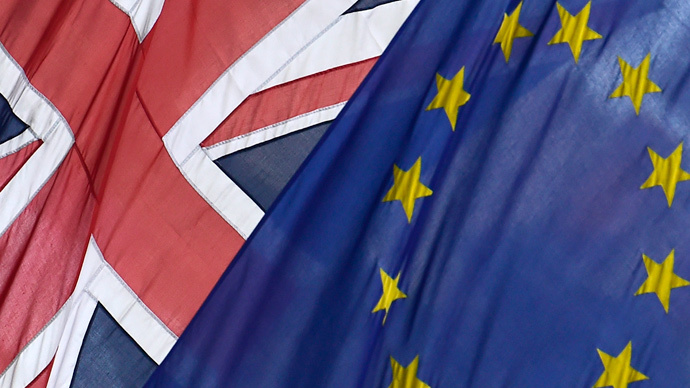 Prime Minister David Cameron faces a rebellion in the House of Commons on Thursday after Labour and Conservative rebels joined forces to change the date of the referendum on Britain's continued EU membership.
Eurosceptic Tories joined forces with Labour to demand the referendum is not held on the same day as local elections.
A Commons defeat over the date of the plebiscite would be Cameron's first in this parliament.
It comes as German Chancellor Angela Merkel urged Britain to stay in the EU and consider what role it wanted to play in Europe.
Labour and veteran Eurosceptic Conservative MP Bill Cash have both tabled amendments, calling for the referendum to be held as a standalone vote.
Labour will vote today against Tories plan to hold #EUreferendum on same day as other elections. @LGA_Labour@scottishlabour@welshlabour

— Harriet Harman (@HarrietHarman) June 18, 2015
A Labour source told the Guardian that the party was willing to back Cash's amendment, meaning Cameron is likely to face defeat in a Commons vote at 5pm BST on Thursday.
However there is still a possibility Cash could negotiate a compromise, whereby Downing Street would accept the amendment without it going to a vote.
Cameron's office yielded in the face of rebellion earlier this week by saying the referendum would not be held on the same day as the Scottish elections in May 2016. However, the government did not stipulate when it would be.
READ MORE: 'Washington fears Brexit,' says Nicola Sturgeon
READ MORE: EU referendum bill 'based on nonsense and contradiction' – Salmond
READ MORE: 'BBC bias': EU referendum coverage to be independently monitored by watchdog
Eurosceptic Tory MPs claim the government is seeking to "rig" the referendum in favor of staying in Europe.
Most Eurosceptic Conservatives also oppose moves to lower the voting age to 16 for the plebiscite – a move supported by Labour and SNP.
The Scottish independence referendum last year was open to voters aged 16 and over.
Wrangling over the amendment comes as German Chancellor Angela Merkel urged Britain to consider what role it wanted to play in Europe.
In a speech to the German parliament, the Bundestag, Merkel said she is confident a compromise could be reached with the UK, as had been the case with Denmark in 1992 and Ireland in 2008.
She expressed her hope Britain would stay in the EU, describing the country as a "natural partner."
However, she added: "Britain obviously needs to work out itself what role it would like to play in Europe."
French newspaper Le Monde has also urged the UK to reflect on its future, albeit it in a less diplomatic way.
The respected daily took the unusual step of running an English-language editorial, titled: "Britain beware, Brexit could be your Waterloo!"
June 18 marks the 200th anniversary of the Battle of Waterloo, a British and Prussian military victory that put an end to Napoleon's empire and ushered in a balance of power for decades in Europe.
Le Monde warned the UK to resist the "familiar temptation of splendid isolation."
"Today, we solemnly say to our friends across the Channel: beware, Brexit could be your Waterloo! And to make sure the message is really heard, we have gone as far as to convey it in English."
"Messieurs les Anglais, don't let the sirens of a fake independence pull you away from the continent. Just as in 1815, your future is in Europe."