EU referendum bill 'based on nonsense and contradiction' – Salmond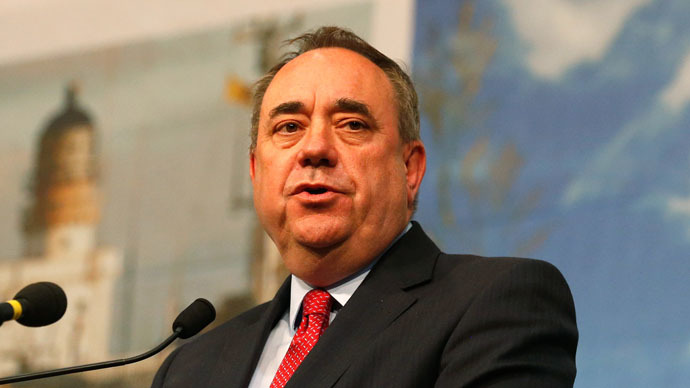 Scotland's former First Minister Alex Salmond has attacked the Conservative Party's European Union Referendum Bill, claiming the manifesto pledge is "based on nonsense and contradiction."
In a speech outlining the Scottish National Party's (SNP) opposition to the Bill, Salmond called for 16- and 17-year-olds to be given the vote as they were in last year's Scottish independence referendum, as well as EU nationals living in the UK.
READ MORE: EU referendum: Cameron to face stiff SNP opposition to bill
READ MORE: Cameron U-turns on threat to sack MPs who back Brexit
His proposal was backed by Green Party MP Caroline Lucas who interjected during the second reading of the bill to advocate votes for young people.
Salmond also said the referendum proposal "contradicted" Prime Minister David Cameron's beliefs. "Nobody actually believes that Cameron wants a referendum," said Salmond, adding the vote could be used a political tool funded by the taxpayer.
Following the debate on Tuesday afternoon MPs were set to vote to pass the bill, which will pave the way for a referendum on the UK's membership of the EU.
Salmond praised the maturity and capability of 16- to 18-year-olds and their ability to engage with the democratic process. He said giving young people the vote had helped politicize Scotland.
"Scotland now has a politicized collection of 16- to 18-year-olds," he said. "They have demonstrated they are much more wise and able to understand politics" than they had been given credit for, and that they had "demonstrated an ability to take part in these debates."
Salmond said it would be "insulting" not to include them.
Foreign Secretary Philip Hammond, who opened the debate for the government, said young people and EU nationals living in the country would not be given the vote as it would breach current Westminster protocols, which only allow those over 18 to take part.
However, the European referendum vote has already been extended to the House of Lords, as Shadow Foreign Secretary Hilary Benn pointed out, meaning it already breaches the current Westminster system.
The proposals came under fire from both the "Yes" and "No" camps as MPs suggested the government could sway the vote by shoveling money into one side of the campaign.
Former Attorney General Dominic Grieve told the Commons: "I think we have to be very careful to ensure that we provide a clear indication that it will be a level playing field and it will not be abused, and for that reason I do hope that the government will focus on this issue. Because the change which is being introduced – on a piece of legislation which we previously ourselves criticized as being deficient in this respect – can convey an impression that the government will come in and try to load the dice, and that must be avoided."
Salmond echoed the sentiments of other skeptical MPs, saying the referendum proposals needed to be "locked down" to ensure neither the "Yes" or "No" campaigns were overly backed by taxpayer funds.
"Lock it down in this referendum if you want to secure a proper and decent referendum [and] if you want to avoid the decks being stacked," he said.
MPs were to vote on the bill early Tuesday evening.