​Discharged Trident whistleblower rebukes Royal Navy 'spin'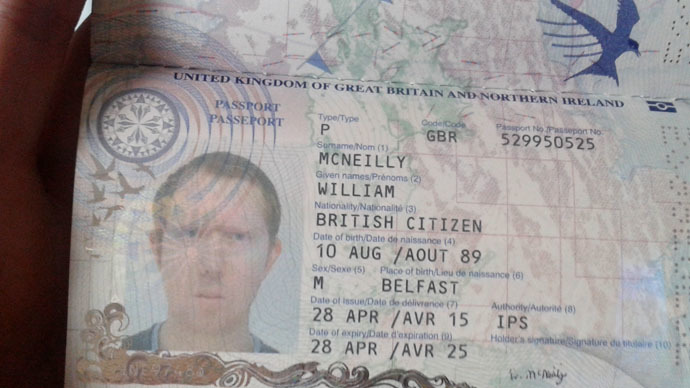 Nuclear whistleblower William McNeilly, who had been dishonorably discharged from the Royal Navy, says military "spin doctors" have tried to obscure the safety and security concerns he raised in an extensive dossier last month.
McNeilly now claims to have been dishonorably discharged from the service, having not been heard from for over a month.
Reports over the intervening period suggested he was held in a secure military facility.
In a new nine-page document published online, he said: "It is shocking that some people in a military force can be more concerned about public image than public safety."
McNeilly posted his original findings online last month while AWOL, raising up to 30 issues regarding nuclear weapons safety and base security.
The Navy immediately claimed McNeilly's allegations were "subjective and unsubstantiated" and "factually incorrect or the result of misunderstanding or partial understanding."
READ MORE: 'Nuclear disaster waiting to happen': Royal Navy probes Trident whistleblower's claims
READ MORE: 'Nuclear disaster waiting to happen': Royal Navy probes Trident whistleblower's claims
READ MORE: Nuclear safety incidents soar 54% at UK's Clyde sub base & arms depot
McNeilly has now responded, saying: "Other submariners have been anonymously releasing information to journalists.
"It's only a matter of time before worse information comes out, and everything is proven to be true."
There had initially been discussion over whether McNeilly would be charged under the Official Secrets Act, fears which seem to have abated.
"All of the charges against me were dropped; there's nothing that I can be charged with now," he said.
"Most people know that I acted in the interest of national security. However, I was still given a dishonorable discharge from the Royal Navy."
McNeilly feels he was discharged by the Navy "on the claim that my sole aim was to discredit their public image."
Having served aboard the Trident submarine HMS Victory earlier this year, McNeilly said he was shocked at what he saw there.
"When I joined the Royal Navy, I had no idea that I was going to work with nuclear weapons. When I found out, I was happy. I used to think they were an essential tool in maintaining peace, by deterring war," he said.
"It wasn't until I saw the major safety and security issues that I realized the system is more of a threat than a deterrent."
The furor around McNeilly's leaks saw Scottish National Party MP Alex Salmond raise the question of Trident safety in Parliament, saying "Trident is a key issue for people in Scotland."
"It is bad enough that Scotland is forced to house these weapons of mass destruction, but these alleged breaches of security are deeply worrying – there must be absolutely no complacency," Salmond said.
McNeilly has said claims he was an SNP agent are wrong, although he added he supports the party's aim to remove Trident from Scotland.
"I've been strongly advised to remain silent and live a private life," he said.
However, he has no plans to go quietly, it seems.
"I'm civilian now, and I have the right to free speech. I'm not going to waste that freedom by just sitting around on my ass, while the UK is in danger."
A Royal Navy spokeswoman confirmed to Portsmouth News that McNeilly is no longer in the Navy.
You can share this story on social media: