​Nuclear weapons' security threatened by spending cuts – defense police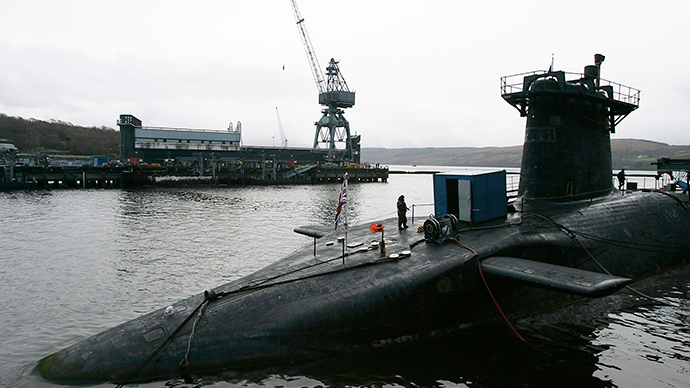 Further cuts to specialist Ministry of Defence (MoD) police numbers could leave Scotland's Faslane nuclear submarine base vulnerable to attack, according to the Chair of the Defence Police Federation.
UK ministers are planning deep spending cuts to defense. The Ministry of Defence Police (MDP) guarding the base could be affected, despite the force already losing a third of its officers since 2010.
Defence Police Federation Chairman Eamon Keating is expected to use a keynote speech at the federation's annual conference to urge ministers to reconsider cuts.
READ MORE: Trident whistleblower to 'turn himself in' amid concerns over UK leaker's fate
READ MORE: Trident nuke safety questioned by Salmond after Navy whistleblower leak
"The wrong decisions in the next six to 12 months will undermine officers, put the future of the MDP in jeopardy and, ultimately, reduce the security of the MoD's assets and personnel, not to mention the safety of the public," Keating is expected to say.
"The reality is that it would be impossible for the MDP to meet its current responsibilities if our numbers are reduced further."
His comments will come just weeks after a Royal Navy whistleblower published a highly critical report on nuclear base security, which claimed, there is a "nuclear disaster waiting to happen."
In May, Able Seaman William McNeilly, a weapons engineer, claimed a number of security lapses and technical faults with the Trident missiles carrier expose the British nuclear deterrent to potential terrorist attacks that "would kill our people and destroy our land."
Possible attackers have "the perfect opportunity to send nuclear warheads crashing down on the UK," he claimed.
McNeilly also outlined the ease with which potential terrorist can infiltrate the base.
"At a base security brief we were told that thousands of Royal Navy IDs go missing every year. A terrorist can use them, or create counterfeits with them and easily gain access. Considering most of the guards barely look at them from a few meters (couple of feet if they're the rare ones) away, the fakes wouldn't have to be too perfect," the whistleblower explained.
The revelations, released while McNeilly was AWOL, eventually saw former Scottish National Party (SNP) leader Alex Salmond secure time in Parliament to debate the claims.