​Buying sex made illegal in Northern Ireland under new law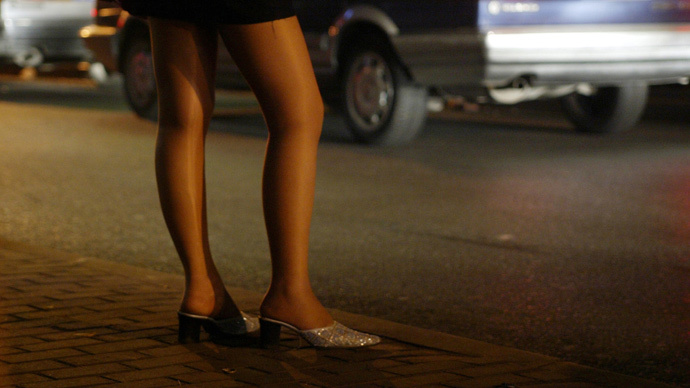 It is now illegal to pay for sex in Northern Ireland under new legislation that came into effect on Monday. Those caught breaking the law could face up to a year in prison. Critics say the ruling breaches human rights law.
Northern Ireland is the only part of Britain to introduce a law aimed at punishing prostitutes' customers instead of sex workers.
The new law is part of the Human Trafficking and Exploitation Act 2015, which was brought forward by DUP MLA Lord Maurice Morrow last year.
In a statement, he said the legislation "will not, in and of itself, eradicate trafficking. Ultimately doing so may prove impossible – that does not mean we shouldn't try."
READ MORE: In the genes? Sex criminals' relatives 5 times more likely to also offend - researchers
Maurice hopes the new law will "send a strong message that our society will not tolerate human trafficking and that we will not let the victims of such crimes down."
If a person is caught breaking the new law they could be fined and sentenced to a year in prison.
PSNI Chief Inspector Tim Mairs said measures "have been taken" to increase officers' awareness of the new law.
"Following consultation with the Public Prosecution Service, police will enforce the new legislation in line with the criminal justice disposal arrangements available," he told the Irish Times.
Critics argue the new law will encourage more prostitution south of the border in the Republic of Ireland.
The Immigrant Council of Ireland said there is "no doubt" men will "make the short journey over the Border in order to escape the law."
Kate McGrew from the Sex Workers' Alliance Ireland says the new law will "put the lives of sex workers in [the] North at risk."
READ MORE: Consensual sex widespread in UK prisons, study finds
"Nobody in the community says they will stop working or going to see sex workers," she told the Irish Times.
"From June 1, there will just be more pressured situations and shadier environments, and workers will have less power to negotiate safe sex," she added.
McGrew said another consequence of this law will mean sex workers "will have less trust in the police."
Arguing the new law breaches European Human Rights laws, Belfast sex worker, Laura Lee has announced she will be seeking a review of the law in Belfast's high court.
Lee says making the trade illegal puts sex workers in danger.
By introducing the law, politicians "sent out a clear message to the sex work community that they don't care about us, one of society's most stigmatized groups."
You can share this story on social media: