​Military cuts could leave UK's 'huge commercial interests' in Asia vulnerable – Fallon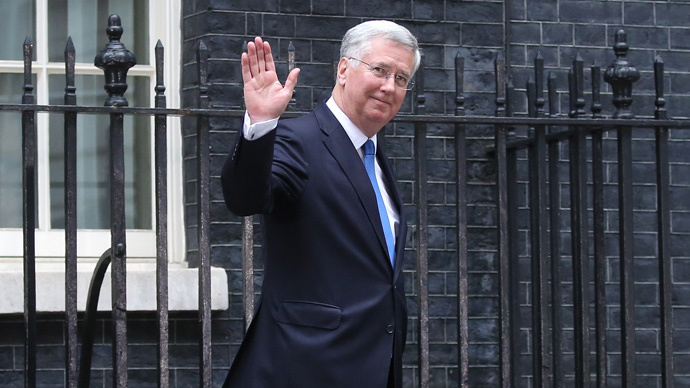 Proposed cuts of £1 billion to defense spending could leave Britain exposed if tensions in the South China Sea, where Britain has 'huge commercial interests,' escalate to war, according to Defence Secretary Michael Fallon.
He made his comments at a major defense conference in Singapore.
Fallon told the Times: "The world is becoming a darker, more dangerous place."
He warned against the "potential for miscalculation [in the South China Sea], for misunderstanding to escalate if it's badly handled by a local commander."
He also contested the need for cuts on the scale proposed by the Treasury.
READ MORE: Chancellor Osborne demands extra £1bn UK defense cuts
"My job is to make sure that the armed forces have what they need to keep Britain safe. That's what I'll be negotiating with the chancellor," said Fallon.
He added the South China Sea – where China has recently started building artificial islands for reasons of both "defense needs" and "international responsibilities and obligations" – is a region of "huge commercial interest to us, to Western Europe, and to the global trading system."
On Friday, it was reported Chancellor George Osborne had told the Ministry of Defence (MoD) to find £1 billion worth of cuts.
The move could also end Britain's ability to meet the symbolic contribution of two percent of gross domestic product (GDP) to NATO, a topic of fierce debate in the run-up to the recent general election.
One ministry insider warned the Times newspaper that defense austerity, applied to this extent, would "not be a thing you could just swallow and carry on."
China is not alone in extending its influence in the region.
In March, a defense minister announced one of the UK's most advanced military satellites would be repositioned over the Asia-Pacific region to provide secure communications to Britain's allies.
The Skynet 5A satellite is owned and operated by the global arms firm Airbus Defence and Space.
READ MORE: Skynet military satellite to deploy over Asia-Pacific – UK defense chief
The "hardened" satellites orbit earth in a "constellation" composed of eight separate units, providing the MoD with all its global "Beyond Line Of Sight" (BLOS) communications capacity.
In a statement published on the MoD website, Defence Minister Phillip Dunne said: "Today's announcement that Airbus will be moving one of the UK's Skynet 5 satellites to the eastern Asia-Pacific region is clear proof of how much our relationships with our international allies matter.
"This is the first time that we have had a secure communications capability in the region, and shows the depth of our commitment to our allies and partners in the region, including Malaysia, in humanitarian and peacekeeping operations."