​Largest British banks launch FIFA investigation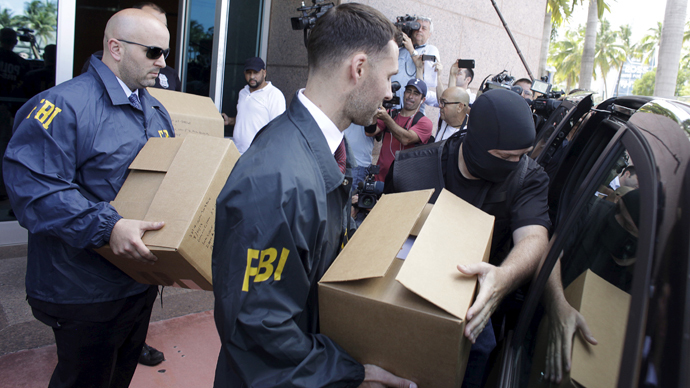 British multinational banks, Barclays and Standard Chartered, have initiated internal investigations to ascertain whether allegedly corrupt payments of FIFA officials went through their systems.
According to a BBC report, the FBI indictment of seven FIFA officials arrested in Zurich last Wednesday referred to both Barclays and Standard Chartered, as well as to HSBC.
All three financial entities refused to comment further, with Standard Chartered only mentioning it was looking into the payments.
Voices are being raised in the British political establishment to boycott FIFA's World Cup. The next one is being hosted by Russia in 2018.
Labour Party MP Andy Burnham, favorite to be the next party leader, told BBC Radio 5 he has long had doubts about Russia hosting the event and urged England to boycott the next World Cup. He asserts there's a "pretty overwhelming case" for the UK's Football Association to act.
'FIFA scandal will not affect 2018 World Cup'- organizing committee head http://t.co/n0YmtMpHpTpic.twitter.com/OHfUJ701z1

— RT (@RT_com) May 28, 2015
English Football Association Chairman Greg Dyke warned against Britain acting unilaterally in this sensitive issue. The support of other nations should be enlisted first.
"It's got to be done by enough nations to have an impact," Dyke told BBC One's the Andrew Marr Show. The FA chairman rightfully noted it would be "ridiculous" to do it all alone, because once Britain pulls out of the World Cup, other nations would most probably say 'well done' and "they'd forget all about us."
"We've got to do it alongside other large footballing nations," said the chairman of the UK's Football Association.
Questions were raised in the House of Commons on Wednesday as to whether the UK should begin an investigation into the decision to give the 2018 and 2022 World Cups to Russia and Qatar respectively.
The UK is thought to have spent £19 million on its failed bid for the tournament, which counted the support of David Beckham and Prince William.
READ MORE: FIFA arrests: Cameron calls for Blatter resignation
On Saturday, Greg Dyke said since most European countries voted against the re-election of FIFA President Sepp Blatter, he would support the idea of the UEFA boycotting the next World Cup in Russia.
Prince William is "obviously upset about what has happened," Greg Dyke said, acknowledging that putting further pressure on Sepp Blatter is "pretty impossible," because the re-elected FIFA president is "oblivious" to pressure.
"But putting pressure on other footballing nations and [FIFA] sponsors is a good idea," Dyke said, adding that in his opinion Sepp Blatter "will not last for four years."
Dyke predicted more FIFA scandals are on their way, because both the US and Swiss investigators are digging into it all.
READ MORE: Back in the saddle: Defiant Blatter blasts US probe against FIFA
According to the British FA chairman, Sepp Blatter won the FIFA presidency once again because "a lot of the smaller countries rely on FIFA totally for their income.
"We are not in that position. We don't need FIFA at all, so we can say what we like. So, if Mr Blatter is now saying he can forgive but not forget, we can tell him right back we neither forgive nor forget," Dyke said.
A couple of month ago, Ukrainian President Petro Poroshenko was the first to question Russia's right to host the World Cup in 2018 over allegations of Russia's involvement in the civil war in eastern Ukraine, a claim that Moscow consistently denies.
"I think there has to be discussion of a boycott of this World Cup. As long as there are Russian troops in Ukraine, I think a World Cup in that country is unthinkable," Poroshenko told the German Bild newspaper in March.