FIFA's corruption scandal: Behind the scenes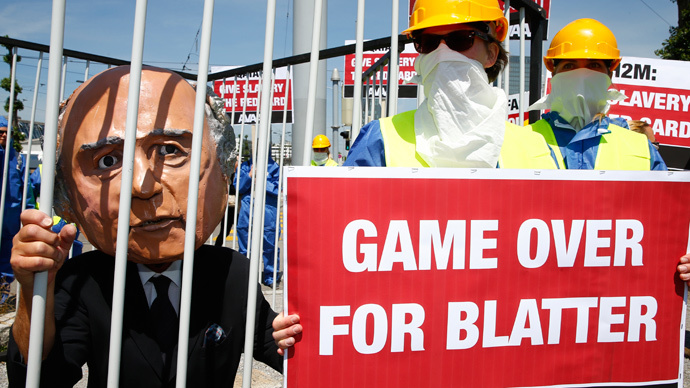 The FIFA presidential vote on May 29 was likely to have been a foregone conclusion, seeing Sepp Blatter win a fifth term. However, following the arrests of FIFA delegates instigated by the US, both the vote and Blatter's position could be in doubt.
Such a chain of events would benefit Blatter's opponents, of which there are many in the West. London, for example, has been waging a campaign against the FIFA president ever since England lost out to Russia for the right to host the 2018 World Cup, which was made in Zurich in December 2010.
"The timing is really the dead giveaway. This investigation by the media and various police authorities has been going on for about a year now and suddenly just two days before the election, there is all this suspicion surrounding Sepp Blatter," said Tony Gosling, a British-based investigative journalist.
We welcome the actions of the Swiss & US authorities. Read my statement - http://t.co/f2Z25cwm5d

— Joseph S Blatter (@SeppBlatter) May 27, 2015
Gosling added that FIFA is "one of the last big institutions that is not controlled by the West," and it was no surprise to see how the West was backing Prince Ali of Jordan to become the new head of world football's governing body.
Prince Ali Bin Hussein, a major general in the Jordanian army and married to a former CNN journalist, garnered much support from the West in his bid to unseat the incumbent Blatter.
"This guy sounds like a perfect pliable stooge for the West. He is a puppet kind of character. But the timing again is a dead giveaway for me as I am reminded about all the FBI's arrests when the terror attacks were taking place in the United States," Gosling added.
Platini: Blatter has already lost. Hope for 53 UEFA votes against him http://t.co/MEGT8ZqPAppic.twitter.com/eBACmzn6pb

— RT (@RT_com) May 28, 2015
Meanwhile, UK-based journalist, Neil Clark was not surprised by the timing of the arrests.
"A lot of this [has] to do with the fact that you got all the bigwigs of FIFA at one place in hotels in Switzerland, ahead of Friday's annual general meeting."
"In terms of the FBI investigation, which we know has been going for a long time; this was really a perfect opportunity to arrest these people because they were in one place. And that's a big factor with the timing," Clark said.
New York Times: Right place, right time
The New York Times broke the story and just happened to have two reporters on the scene, Michael Schmidt and Sam Borden, who had arrived at the Baur au Lac hotel, even though they allegedly had no idea that any arrests would be made.
They managed to command the best vantage points, which gave them a bird's-eye view of proceedings, which they relayed on Twitter to their followers to give extra insight into their world exclusive. However, the journalists involved in the story strenuously denied they had been in contact with the FBI concerning the investigation.
Assembled media outside the hotel in Zurich. Crowd is growing. pic.twitter.com/cjZ5GcJMAc

— Sam Borden (@SamBorden) May 27, 2015
"Nobody pulls you aside and says 'Here's what you need to know,'" Matt Apuzzo, who helped co-write the story, told Huffington Post. "It's a lot of looking for signals, making educated guesses, and reacting accordingly. Luckily the Times is a place that will put Mike Schmidt and Sam Borden on planes to Switzerland and hope it works out. Because you don't know what you're going to find until you get there."
Russian President Vladimir Putin said pressure had been applied on Blatter "to force him to take the 2018 World Cup from Russia."
Sent letter last wk urging #FIFA to elect new Pres & deny Vladimir Putin 2018 #WorldCup while he invades #Ukraine: http://t.co/V45CLKTlgF

— John McCain (@SenJohnMcCain) May 27, 2015
Most recently, this came from Russophobe and US Senator John McCain, who said: "In the light of President Blatter's continued support for Russia… We ask that you reconsider your support for President Blatter's fifth term as FIFA president."
Blatter has been resolute in his support of Russia hosting the 2018 World Cup, despite previous calls from Ukrainian President Petro Poroshenko to remove the tournament from his giant neighbor.
"I think there has to be discussion of a boycott of this World Cup. As long as there are Russian troops in Ukraine I think a World Cup in that country is unthinkable," Poroshenko told the German newspaper Bild in March. Russia categorically denies any military involvement in Ukraine.
Aleksey Sorokin, the head of the Russia 2018 Local Organizing Committee, spoke exclusively to RT, saying it was impossible even to think about the tournament not taking place in Russia in just over three years' time.
"Russia 2018 will not be affected by this affair. There is another investigation going on in Switzerland. This investigation has to do with the voting process and the selection process of the host countries. Again, we did cooperate with the last investigation by Mr. Garcia. We cooperated, we submitted all the information. We don't know how else we can help any investigator who is interested in that," Sorokin said.
Israel to remain in FIFA due to scandal?
Conveniently, the intervention by the US order to Swiss police to arrest the FIFA officials for corruption came just days before members of world football's governing body were due to vote on whether to kick Israel out of the organization over alleged racism towards Palestine.
The vote is scheduled for Friday and needs a two thirds majority of the 209 members to succeed.
The allegations regarding FIFA have proved to be very damaging; however, for Israel they could prove to be a savior. Until Wednesday, much of the media coverage from the FIFA congress in Zurich was concerning whether the delegates would vote to ban Israel from international football.
"Now, with FIFA's boat already rocking, member states will probably be loath to pile one controversy on another. FIFA President Sepp Blatter, already opposed to Israel's suspension (he met last week with Israeli Prime Minister Netanyahu and Palestinian President Mahmoud Abbas) is probably looking to avoid two crises on his hands at once," the Times of Israel stated.
Despite all the controversy facing Blatter, John Goodbody, a UK-based sports journalist, thinks it is impossible to look any further than Blatter getting a fifth term as FIFA President.
"The widespread belief is that Blatter will win very easily indeed. He will win very easily for the simple reason that he gives the voting delegates exactly what they want, which is more money. They get the money because of the success of football. Despite all the criticism that he has received, I would very much doubt if he will stand down at this stage," Goodbody said.
You can share this story on social media: