Tony Blair to become Israeli/Arab 'unofficial liaison'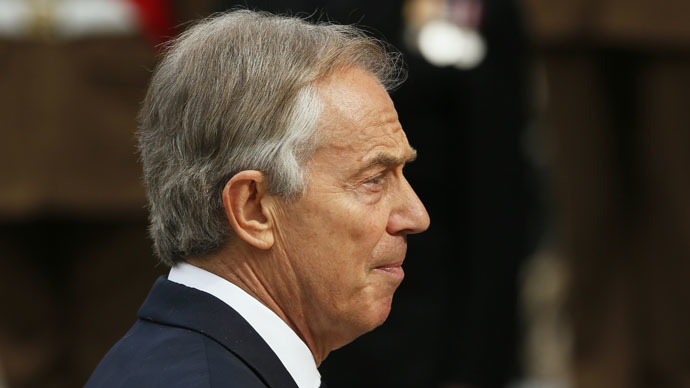 Following his resignation as Middle East peace envoy, former Prime Minister Tony Blair is planning to take up the mantle of unofficial liaison point between Israel and the Arab world, aides have said.
His resignation was revealed on Tuesday, before he officially sent his formal letter of notice to the UN General Secretary Ban Ki-moon.
The former prime minister served as a peace envoy for the Quartet Group, made up of the UN, the US, the EU and Russia, for eight years.
READ MORE: Tony Blair resigns as Middle East peace envoy - reports
READ MORE: 'Hallelujah!' Blair's resignation as Middle East peace envoy prompts internet celebration
He is reportedly planning to "remain active on the issues and in the region," but without taking up "any formal role."
His letter to Ban Ki-moon came as the Ad Hoc Liaison Committee, a steering group for Middle East peace talks, met in Brussels on Wednesday.
His resignation follows speculation from the Financial Times on March 15, which claimed Blair was looking to step back from his role, and had been looking at alternative options in the run up to the Israeli election.
In his potential role as a bridge-builder between Israel and its Arabic neighbors, Blair will attempt to ease tensions in an area where many countries have no diplomatic relations with Israel.
Israel is currently trying to form an anti-Iranian alliance in the area during the build-up to a highly anticipated global nuclear deal with the country, which has instilled fear among Gulf States.
Israeli Prime Minister Benyamin Netanyahu has often referred to Egypt, Jordan and the Gulf States as the "responsible countries in the region."
Blair's role in the Quartet Group was largely focused on growing the Palestinian economy, but the former PM has held discussions with the US Secretary of State John Kerry over the possibility of extending his role in the region.
The post has not yet been officially announced, but a source told the Times that Blair's work with the Israeli's needed "a different approach."
"He wants to build stronger relations between Israel and the wider Arab world, drawing on the relationships he has in the region."
The role may further blur the boundaries between Blair's business interests and political duties.
He has previously worked with the Kuwaiti government, and his consultancy firm won a contract in 2009 to advise Abu Dhabi's wealth fund Mubadala.
Blair has also had links with the Egyptian government and has visited President el-Sisi several times.
You can share this story on social media: