Methodist Church in child sexual abuse scandal spanning decades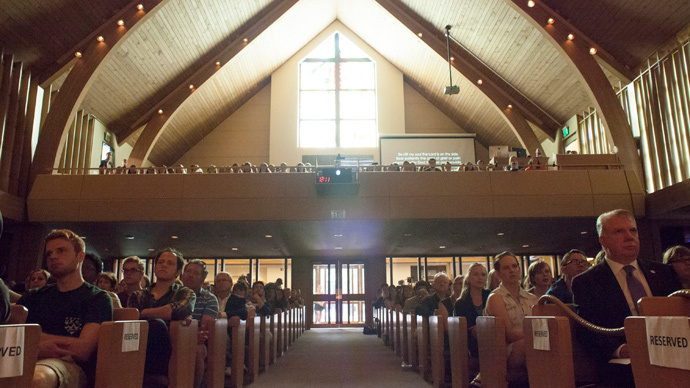 The Methodist Church in Britain (MCB) published a damning report from an independent inquiry on Thursday, which found nearly 2,000 incidents of physical and sexual abuse going back as far as 1950.
The inquiry was carried out by Jane Stacey, former deputy chief executive of the children's charity Barnados, and took three years to complete its findings.
It considered all cases that ministers and members of the church could remember as well as those for which there were written records. These included cases that were carried out within the church and those that were reported to the church, but which occurred away from it.
READ MORE: Over 1,400 suspects investigated in UK historical sex abuse inquiry
READ MORE: Pedophilia in Britain 'woven into the fabric of society' – Theresa May
READ MORE: Predators at large: Hundreds of UK pedophiles missing, new figures indicate
The 1,885 cases identified included sexual, physical, emotional and domestic abuse including cases of neglect. Some 26 percent of cases were carried out by actual church ministers, and in 61 of these the police were involved, including six ongoing police investigations.
Allegations of sexual abuse made up the largest number of cases. One of the cases involved the grooming of teenage girls on Facebook, while another involved a minster allegedly making sexual advances on children.
One victim of sexual abuse who responded to the survey told the BBC the MCB initially covered up the allegations.
"I have learnt that it is impossible to recover from sexual abuse when no-one recognizes the seriousness of it. My Church did not want a scandal, my parents did not want a scandal. I was left to feel worthless and devalued, while the man was left to get on with his life and for all I know repeat the crime with someone else. I was emotionally and physically devastated," the victim said.
The MCB, which commissioned the inquiry, has issued a statement saying it wishes to be open about what has happened and put in place stronger safeguards and procedures so nothing like it happens again.
Rev Dr Martyn Atkins, the general secretary of the MCB and secretary of the Methodist Conference, admitted the church had "not always listened properly to those abused.
"I am certain that the Methodist Conference will want to resolve to do all in its power to improve its systems to protect children, young people and adults from abuse within the life of the church and on church premises, and to review them diligently on a regular basis," he said.
"That abuse has been inflicted by some Methodists on children, young people and adults is and will remain a deep source of grief and shame to the church," he added.
A law firm, representing some of the people who suffered abuse and which is taking legal action against the church, said minsters had taken advantage of some of society's most vulnerable people.
"It has taken my clients over 30 years to have the courage to come forward with their allegations of abuse against the Methodist Church. It must never again be the case that the reputation of institutions takes precedence over the welfare of society's most vulnerable," said Nichola Marshall, head of international abuse at the Leigh Day law firm.
You can share this story on social media: