​Pro-Israel bias: BBC admits editorial breach in interview with Israeli defense chief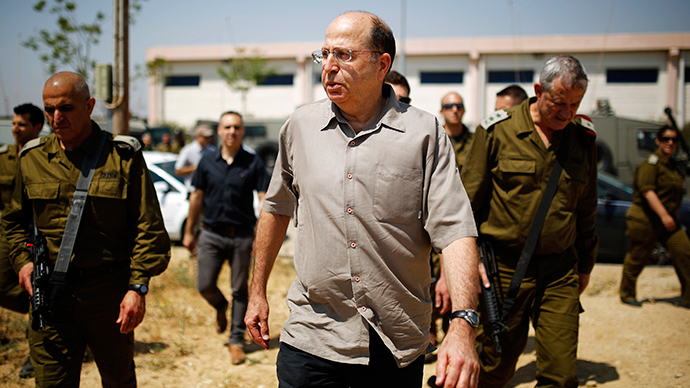 The BBC has reached a "provisional finding" to uphold complaints made by Palestinian activists that the broadcaster breached its editorial guidelines in a "soft" interview with the Israeli defense minister.
Complaints focused on BBC journalist Sarah Montague's alleged failure to challenge controversial claims made by Israeli Defense Minister Moshe Ya'alon.
Journalist Amena Saleem, who works with the Palestine Solidarity Campaign (PSC), wrote on Electronic Intifada that she received an email last week from the BBC's Editorial Complaints Unit (ECU) indicating grievances lodged by the PSC would be upheld.
However, a BBC spokesperson said the finding was "provisional" and the outcome was yet to be finalized.
According to a PSC transcript of the interview, broadcast on BBC Radio 4's flagship news program "Today" on March 19, Ya'alon said that Palestinians enjoy political independence.
If the complaint is upheld, it is the second time in recent months the ECU has censured the state-run corporation for its pro-Israel bias.
Complaint against BBC for describing Gaza war as "Israel's security operation" upheld http://t.co/bAi7GShy6P

— Daniel Wickham (@DanielWickham93) May 20, 2015
BBC News Online was found to have breached its editorial guidelines last July when it described the author of an article about Gaza's hidden tunnels as an "independent defense analyst."
The author, Dr Eado Hecht, is a lecturer in military doctrine at Bar Ilan University, an institution described by the ECU as being "explicitly pro-Israeli."
The complaints board also acknowledged the author had "published articles written from a clearly pro-Israeli perspective."
In Montague's interview with Ya'alon, the senior BBC journalist failed to address misleading statements by the Israeli defense minister.
According to a transcript, Ya'alon said Palestinians "enjoy already political independence. They have their own political system, government, parliament, municipalities and so forth. And we are happy with it. We don't want to govern them whatsoever."
READ MORE: BICOM CEO resigns, scrutiny on pro-Israel lobby's political & media clout
READ MORE: Israel-Palestine coverage is difficult, admits BBC chief amid accusations of bias
READ MORE: Crowds protest BBC 'biased reporting' on Gaza (PHOTOS, VIDEO)
The PSC has challenged Ya'alon's statement, claiming Palestinians live under occupation and, in Gaza, under siege.
The UN General Assembly, Security Council and the International Court of Justice all consider Israel to be an "occupying power."
Ya'alon also said that the 1.5 million Arabs living in Israel have the "same civil rights as we enjoy."
According to Hassan Jabareen, head of the Legal Center for Arab Minority Rights in Israel (Adalah), Israel has 45 laws that can be considered discriminatory against Arab citizens of Israel.
"The discrimination started with laws related to land before it turned to laws related to humans; new laws now target citizenship, identity and freedom of speech," he told the Journal of Turkish Weekly last week.
Saleem claims the ECU sent her an email in which they upheld the complaints against the broadcaster.
She quotes ECU head Fraser Steel: "Mr. Ya'alon was allowed to make several controversial statements … without any meaningful challenge, and the program-makers have accepted that the interviewer ought to have interrupted him and questioned him on his assertions."
"The result was that the output fell below the BBC's standards of impartiality," he added.
A BBC spokesperson said: "The BBC has reached a provisional finding that the complaints should be upheld and will be taking comments from the complainants into account before finalising the outcome."
The broadcaster has come under scrutiny from Britain's communications regulator Ofcom in recent years.
A BBC Radio 1 Newsbeat program was found to be in breach of broadcasting guidelines when it interviewed a British jihadist in Syria who compared the war to playing the computer game "Call of Duty."
Ofcom ruled the comments had no context and were inappropriate for a younger audience.
Montague was responsible for another slip-up in 2013, when crime writer Lynda La Plante used the word "retard" during an interview on the Today program.
Montague changed the subject during the interview in an "implicit criticism," but Ofcom said she should have addressed the point more explicitly.
You can share this story on social media: