​Tory plans to seize illegal workers' pay will push migrants into slavery - campaigners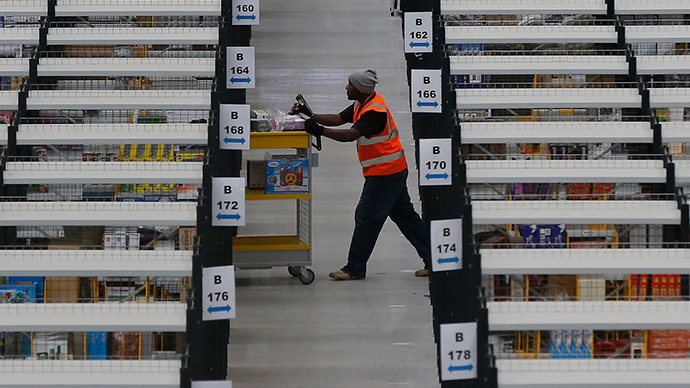 Prime Minister David Cameron will give police new powers to seize the wages of illegal workers in a fresh bid to deter migration amid allegations the law will push vulnerable people into "modern slavery."
The Immigration Bill will be announced in the Queen's Speech on Wednesday and will include measures to speed up the deportation of illegal migrants. It will also prosecute firms, which only advertise abroad for staff.
In a new step, the Bill will criminalize illegal work in the UK, which will apply to migrants who have entered Britain illegally as well as those who have overstayed their leave.
The proposals were condemned by migrants' rights groups, who said they will force some people into "modern slavery."
Speaking at the Home Office on Thursday, Cameron said it has become "too easy" for migrants not entitled to be in the UK to exploit legal loopholes.
Under current legislation, firms can be fined £20,000 (US$31,340) for employing illegal workers.
@SueLukes#immigration bill is typical tory policy=blame/punish the poor/black people not our rich friends.

— Sue Lukes (@SueLukes) May 21, 2015
However, with the new legislation individual migrants' pay will be treated as the proceeds of crime and seized by the authorities.
The PM said the new measures were "tougher but fairer," however some pundits believe the announcement was made in a bid to distract the public from Britain's latest immigration figures.
Net migration to the UK hit 318,000 last year, the highest for a decade according to the Office for National Statistics (ONS).
The Conservatives pledged to reduce annual migration to less than 100,000 before the 2010 election, a target they have dramatically failed to meet.
The Immigration Bill will aim to make Britain less attractive to workers outside the European Union, in a bid to reduce the "pull factor" of migration.
READ MORE: 'Immigrants stealing our jobs, Muslims taking over': UK schoolkids' survey exposes social divisions
READ MORE: 'Nuclear option': Cameron uses 'opt-out' to fight EU's refugee sharing plan
READ MORE: 'Make migrants work for free': Italy's minister comments triggers social media frenzy
Campaigners for migrants' rights condemned the proposed legislation for unfairly targeting vulnerable people.
Don Flynn, of the Migrants' Rights Network, argued that seizing pay would push some people into "systems of modern slavery without hope of protection from the law."
"Irregular migrants in the UK fit no one's image of a law-breaker living on the proceeds of crime," he said.
"Their vulnerable status means they are confined to the most insecure and exploitative forms of employment, usually earning scarcely enough to maintain themselves on a day-to-day basis."
Green Party leader Natalie Bennett called the plans "morally reprehensible and politically inept."
"This government has spectacularly missed its migration targets, not because of the minority of migrants who stay beyond their visas, but because those targets are arbitrary and illogical; this new legislation is a transparent attempt to shift the focus away from this failure," she said.
"A promised 'crackdown' on illegal migrants risks forcing them into destitution, but does nothing to address the real economic issues facing Britain," Bennett added.
Speaking to assembled press, Cameron said controlling immigration was the sign of a "strong country."
"Because if you have uncontrolled immigration, you have uncontrolled pressure on public services. And that is a basic issue of fairness," he said.
"That means … dealing with those who shouldn't be here by rooting out illegal immigrants and bolstering deportations. Reforming our immigration and labor market rules so we reduce the demand for skilled migrant labor and crack down on the exploitation of unskilled workers. That starts with making Britain a less attractive place to come and work illegally."
Home Secretary Theresa May insisted the new legislation would act as a deterrent, speaking to the BBC Thursday morning.
"It is not about revenue raising. It is about making it harder for people to be working illegally and setting a clear deterrent for those that want to stay here illegally," she said.