Nation of Ooog: How a bizarre fringe party helped bring about Nigel Farage's downfall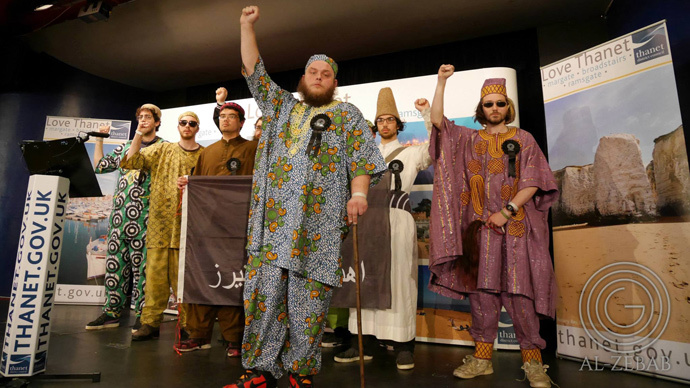 Dubbed one of the weirdest political parties of Britain's general election race, the Nation of Ooog boast to RT of their "victory" in South Thanet and reveal some of the trickery they used to keep Nigel Farage out of parliament.
The semi-satirical group was one of several fringe parties to challenge the UK Independence Party (UKIP) chief at the ballot box in South Thanet on May 7.
Although the party suffered a crushing defeat in the constituency, it says its absurd campaign pledges helped undermine Farage's rhetoric.
Comedian Al Murray of the Free United Kingdom Party (FUKP) also used satire to criticize UKIP's campaign pledges. Even his party's logo – an upside-down pound sign – was a jibe at the euroskeptic party.
Other smaller contenders such as Grahame Birchall of the Party for a United Thanet and Manston Airport Independent candidate Ruth Baily focused on local issues.
However, the Nation of Ooog was the most arcane party running in the race by a wide margin.
The group regularly topped the media's "weirdest parties" lists, while Vice News UK described its members as "heroin-loving piss-takers."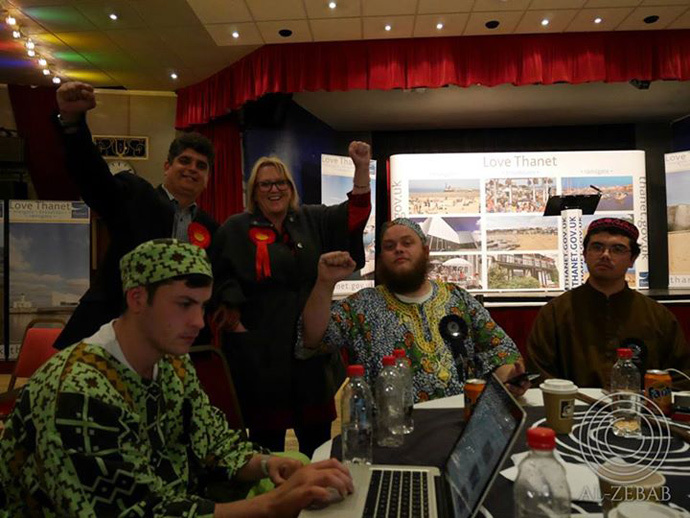 Led by self-styled Prophet Zebediah Abu Obediah, the party made outrageous campaign promises in the run-up to the election. Among these, was a pledge to declare Thanet a sovereign state, ban "hetro-marriage" and erect a 10-foot high wall down the middle of Broadstairs High Street.
The Nation of Ooog, which takes its name from the deity it worships, also vowed to legalize the use of heroin and consumption of dog meat.
The party claimed victory in last week's election, despite having won just 30 votes. RT spoke with Party Secretary Faisal Ibn Bertiyyah to ask him about the group's election "conquest."
Sabotaging UKIP
Faisal, who is also a poet, claims the Nation of Ooog used a number of tactics to discredit UKIP and prevent Farage from making public appearances.
The party came to the attention of the media in February when it bought the web address www.ukipthanet.co.uk and redirected users to the Al-Zebab homepage.
Visitors were immediately greeted with an order to "renounce [their] white skin" and a YouTube video of their party political broadcast.
According to Faisal, this was just the beginning of the party's trickery.
"We enlisted an army of fake Facebook and Twitter profiles to artificially inflate UKIP's confidence in the area. We also had hands in various campaigns of nuisance and provocation that we will not detail for legal reasons," he said.
"By exploiting the fault lines in the battle for South Thanet, we effectively scared Farage away from attending ANY public hustings events. Understandably, this bred resentment among undecided voters, who increasingly saw Farage as distant and uninterested in local issues."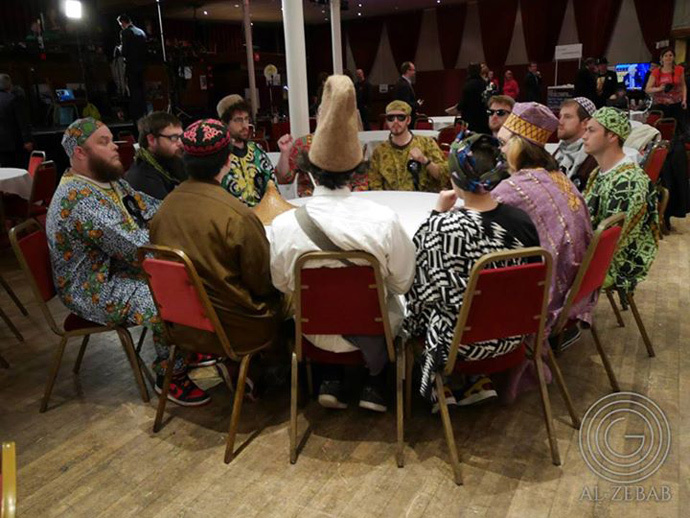 Faisal's claims of online deception cannot be verified. Nevertheless, just two days before polling day UK media outlet Kent News ran a story noting that Farage had attended fewer local campaign events in South Thanet than Prophet Zebediah from the Nation of Ooog.
Faisal claims Prophet Zebediah attended every hustings event he was invited to and posted 46,000 flyers to homes in the constituency.
The group said its finest act of sabotage came when it revealed UKIP's plans to hire a tank for an Election Day publicity stunt.
Faisal said they discovered the plot when their own tank booking was canceled "in a very suspicious way."
"We used our contacts and we publicized the news through our own channels. Eventually, the media picked up on it – and the Telegraph ran the story two days later," he added.
"Farage admitted the tank plan [existed] - but made excuses for why he canceled it that have since changed several times."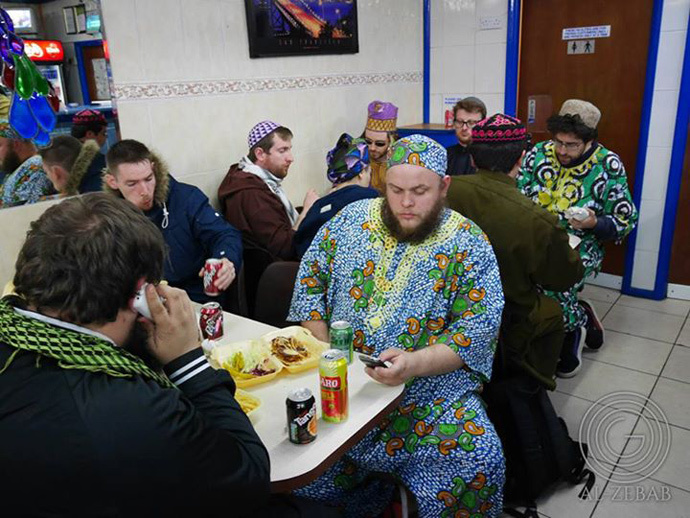 Election victory
The Nation of Ooog's claim to "victory" is understandable in light of Farage's defeat and the subsequent internal conflicts now engulfing UKIP.
Farage quit as leader after losing South Thanet to Conservative candidate Craig Mackinlay by more than 2,000 votes, only to withdraw his resignationthree days later at the request of UKIP members.
A bitter row followed his U-turn, as a prominent financial backer called for him to step down and the party's economics spokesman, Patrick O'Flynn, labeled him "snarling" and "thin-skinned."
O'Flynn has since apologized for the remarks, and resigned as the party's economics spokesman.
Farage told the BBC he accepted the apology and insisted UKIP had "never been more united."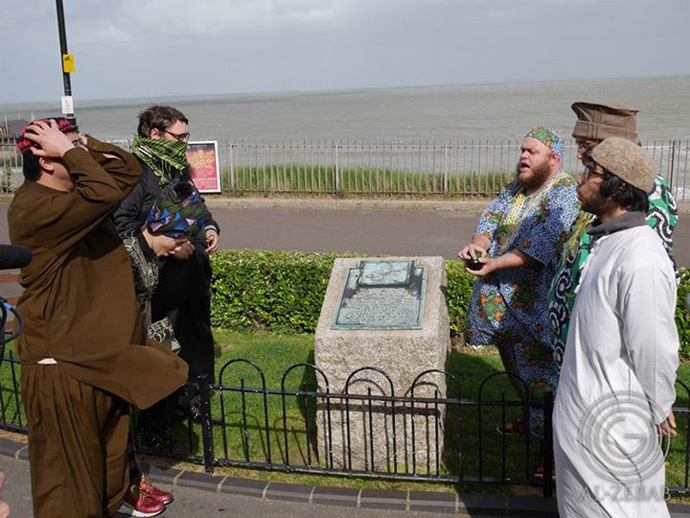 With other senior UKIP figures expressing their disappointment at O'Flynn's resignation, it seems Farage's united UKIP could be a long way off yet.
The Nation of Ooog claims it was victorious not only because Farage failed to win South Thanet, but also because it did not "prostitute" itself like other political parties.
"Yes, we received 18,000 less votes than the Tories and 16,000 less than UKIP. But unlike both those parties we did not have to hack off our own fingers or prostitute our imaginations to get there, amputating our limbs with a tactical self-hate," it said.
"We know enough about the 'democratic process' and the 'reality' it reflects to know that votes don't equal power, nor have they ever… We left that election more powerful than they did – unburdened by 'politics' and accountable to ourselves and OOOG only … In this very real sense, we won."
READ MORE: Farage farrago: Vow to front UKIP for another 20yrs dismissed as 'joke' by party member
READ MORE: Fringe party 'Al-Zebab Nation of OOOG' troll UKIP leader's election campaign
The future's absurd?
Asked what the future holds for the Nation of Ooog, Faisal sounded optimistic.
"The future, like the past, holds great promise for the Nation of Ooog. We shall continue our work attacking both local racism in Broadstairs and the rose-tinted self-perception of Britain as a whole," he said.
"We will continue to provoke, confound and startle," he added, "and we shall not hesitate to purify our enemies with dog blood: enemies that may be dead, alive or phantasmic."
Radical groups like Al-Zebab, which endorse the legalization of heroin, may sound outrageous to the average citizen. But their absurdity wanes in comparison with Farage's more provocative speeches.
The UKIP leader controversially questioned whether foreigners with HIV should be treated by Britain's National Health Service (NHS), prompting immediate condemnation from AIDS campaigners.
Perhaps this is the Nation of Ooog's "victory": to demonstrate the absurdity that lies at the heart of UKIP and Britain's political conversation itself.
By Tom Mellors - @tommellors
You can share this story on social media: