Farage farrago: Vow to front UKIP for another 20yrs dismissed as 'joke' by party member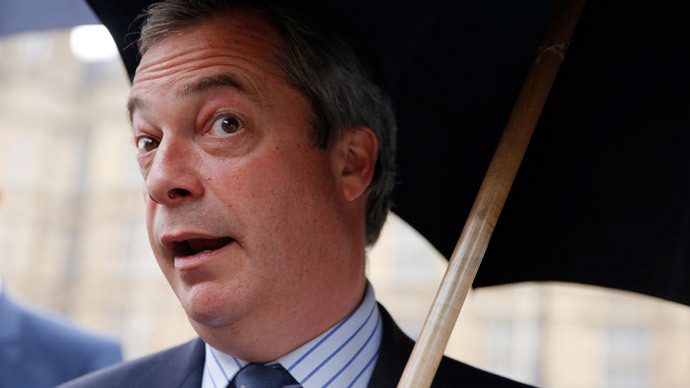 UK Independence (UKIP) chief Nigel Farage has said he wants to lead the Euroskeptic party for the next 20 years.
The statement, given to a national newspaper on Sunday, came after Farage survived a week of intense wrangling within the party.
A bitter row developed in the wake of the general election when Farage decided to withdraw his resignation, and continue as leader.
Senior figures left the party following Farage's 'unresignation,' with outgoing economics spokesman Patrick O'Flynn accusing the UKIP leader of being "snarling" and "thin-skinned."
Speaking to the Sun on Sunday, Farage said: "Having been through what I've been through in the past week, I've decided I will name the date when I stand down."
"I'm looking at about 2035 at the moment. Would I go before then? Well, somebody could shoot me or I could end up in a plane crash, I suppose."
UKIP Deputy Chairman Suzanne Evans insisted Farage wasn't being serious.
2035. An elderly Nigel Farage, coughing heavily, wheelchair bound, once again asks to leave UKIP, but is denied.

— Luke (@lukeosullivan) May 11, 2015
"I think it's a joke," she told the BBC, before suggesting the UKIP leader take a break.
"He's done this for 23 years… Have a holiday, Nigel. You know everyone needs a holiday. It's been such a tough time."
The UKIP leader has said he will take most of August off, after which he'll be "back and raring to go."
UKIP's only MP in Parliament, Douglas Carswell, echoed Evans' comments when he clarified a previous statement that appeared to suggest he wanted Farage to resign.
Carswell had said in an article in the Times on Sunday, May 17, that Farage "needs to take a break now."
Speaking to the BBC's Sunday Politics show, he said: "I'm suggesting he takes a break as leader. I'm not suggesting he takes a break from being leader."
READ MORE: Greens, UKIP & minority parties call for UK electoral reform, launch petition
READ MORE: UKIP on brink of civil war as Farage rules out resignation
Carswell defended the party's decision to reject Farage's resignation following his defeat in South Thanet in the general election on May 7.
"Clearly the national executive has the authority, they're the ruling body. I'm told that they made a decision. I'm told it was a procedurally correct decision, he is the leader but I think it's important that as leader he takes a break and I think it's important that we work out how these complex questions are answered by a team," he said.
Farage's decision to return as UKIP leader, despite having promised to quit if he was not elected in South Thanet, caused a violent rift in the party.
In addition to O'Flynn's biting criticism of the party leader, wealthy donor Stuart Wheeler and former UKIP Member of European Parliament (MEP) Godfrey Bloom called for Farage's resignation.
Two of Farage's closest aides quit after the party machinery blamed them for the 'shock and awful' campaign strategy, which alienated moderate voters.
A senior UKIP figure told the Mail on Thursday: "Nigel's two closest aides, (party secretary) Matt Richardson and (chief of staff) Raheem Kassam are out of control. Half the London HQ office wants them out."
The pair left UKIP the same day, signaling an end to the worst of the party's civil war.
Faith in Farage was buoyed last Thursday when influential donor Richard Desmond, owner of the Daily Express newspaper, came out in support of the beleaguered leader.
"Nigel has my support 101 percent," the Daily Express quoted its owner as saying.
You can share this story on social media: