Greens, UKIP & minority parties call for UK electoral reform, launch petition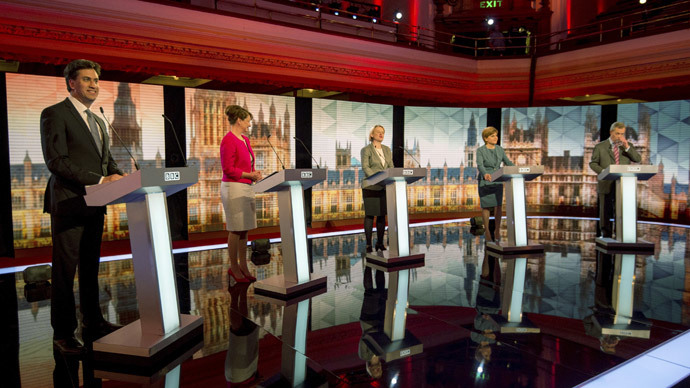 The leaders of the Green Party, UKIP, and Plaid Cymru, as well as representatives from the Liberal Democrats and SNP, have delivered a petition to Downing Street calling for an overhaul of the electoral system and more proportional representation.
The general election saw the Greens receive 1.1 million votes and UKIP nearly four million, but both parties only won one seat each.
The results have triggered a call for the First Past The Post (FPTP) system, which handed the Scottish National Party (SNP) an impressive 56 seats despite only gaining 1.4 million votes, to be reformed in favor of a more representative system.
The petition was signed and handed over by Green Party MP for Brighton & Hove Natalie Bennett, and UKIP chief Nigel Farage. Other leading signatories included UKIP MP Douglas Carswell, Green Party deputy chief Amelia Womack, UKIP deputy chairman Suzanne Evans, Lib Dem MP Tom Brake, SNP MP Philippa Whitford, Electoral Reform Society chief executive Katie Ghose, and Unlock Democracy director Alex Runswick.
READ MORE: UKIP/Green pact? Bennett doesn't rule electoral reform collaboration
Speaking after the results of the general election, the Electoral Reform Society said real majority governments in Britain are a "fantasy" and parties need to collaborate to better represent the UK.
"What we've seen in this election period is the two main parties pursuing the fantasy of a majority, instead of dealing with the reality that they should work with other parties – as happens in countless nations around the world," Deputy chief executive of the Electoral Reform Society, Darren Hughes, said.
"Sadly this is a feature of our unfair and outdated voting system, with parties still stuck in the majoritarian mindset of the past. People's voting habits have changed – they are shopping around and voting for different parties – but our voting system hasn't caught up," he argued.
Electoral reform petition being handed in to No 10 this rainy morning. Broad coalition of Ukip, Greens & Plaid Cymru pic.twitter.com/BTOGY0HUle

— Lucy Fisher (@LOS_Fisher) May 18, 2015
Katie Ghose, Chief Executive of the Electoral Reform Society added: "This election delivered the least proportional result in history. That's because our two-party electoral system cannot cope with the fact that people want to vote for a variety of parties. It's time we had a fairer voting system that accurately translated votes into seats in Parliament."
The Green Party, which sit on the opposite end of the political compass to UKIP, has previously showed an interest in collaborating with the right-wing party to further its cause for electoral reform.
"Lots of people, who were in seats where they have never thought about electoral reform before, are looking at their MP or local council and are saying 'How did we end up with that? That's not what we wanted," Bennett told the Press Association.
READ MORE: Too 'aggressive' to lead UKIP? Farage facing leadership rebellion
"So I think we will see a grassroots campaign and we will be supporting that and very happy to join with anyone else who supports that, working on an issue by issue basis as the Green Party has always done."
Speaking today she added: "The recent election has demonstrated that we need real change in our constitution. We haven't seen significant reform at Westminster since women got the vote, and that was 1918 – we shouldn't get to the centenary of that without getting a fair voting system. The Green Party would have got at least 24 seats under a fair voting system on May 7th– we only have one under our current unfair system. We need a total rethink of the way we vote."
We're handing in our #makeseatsmatchvotes petition today with #greens#plaidcymru#snp#libdems and #ukippic.twitter.com/7yvXvXJTxG

— Electoral Reform Soc (@electoralreform) May 18, 2015
The photo-call outside Downing Street also gave UKIP the opportunity to demonstrate a united front after the party's near descent into chaos last week. Farage said he was "delighted" to be part of the campaign alongside Carswell.
"I'm also delighted to be joining with Douglas Carswell who has campaigned for political reform for years and is leading the UKIP charge for this in the House of Commons".
Carswell and Farage were photographed side by side, following a week of disputes over how the party should spend £650,000 of allocated government funds. The row was exacerbated by senior UKIP members casting doubts over Farage's ability to lead the party.
Speaking on the BBC's Sunday Politics program, Carswell said he supported Farage "100 percent."
"Do you really think Douglas Carswell, who was a Conservative MP in a safe Conservative seat with a 12,000 majority, who gave all that up to stand shoulder to shoulder with Nigel Farage, do you really think that I'm not 100 percent pro UKIP and 100 percent wanting what's best for Nigel?"
You can share this story on social media: