​Fringe party 'Al-Zebab Nation of OOOG' troll UKIP leader's election campaign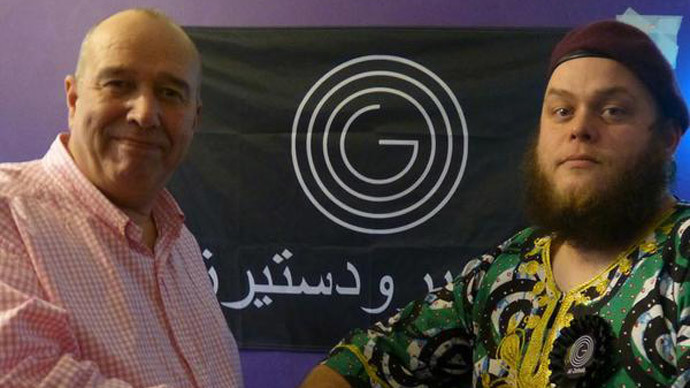 UKIP leader and parliamentary candidate Nigel Farage faces a new threat to his election campaign from a "terrorist-like" fringe party called the "Al-Zebabist Nation of OOOG."
Al-Zebab, a registered political party in Farage's potential constituency of South Thanet, has been attacking the UKIP leader's election campaign with a blend of satire and absurdity.
Led by Prophet Zebadiah Abu Obadiah, real name Robert Bealer, the Al-Zebab party is campaigning for the separation of Thanet from England, the banning of "hetro-marriage," the legalization of heroin and the consumption dog meat.
One of their most controversial policies calls for the complete eradication of Broadstairs, a small coastal town in Thanet, which Al-Zebab says is rife with "racist and fascist ideology."
The party also campaign for tax breaks for bearded families. Children and women will have to wear fake beards, Zebadiah said.
Farage was forced to cancel a visit to Herne Bay last month due to security fears after Al-Zebab began protesting outside the local UKIP office.
In a clear attempt to rile the UKIP leader, the website address www.ukipthanet.co.uk redirects internet users to the Al-Zebab homepage.
Upon arrival on the website, visitors are greeted with an order to "renounce [their] white skin" and a YouTube video of Al-Zebab's "party political broadcast."
Narrated in Arabic, the video tells the murky history of racism in Broadstairs, beginning with the establishment of a British Union of Fascists (BUF) branch in the 1930s.
According to local history groups, the BUF had a branch on Broadstairs high street. Arthur Tester, who spied for Nazi Germany during the 30s, is also said to have lived in the town.
The broadcast goes on to show images of American soldiers in Iraq and the infamous WikiLeaks 'Collateral Murder' video, which showed a US helicopter open fire on a group of men that included a Reuters journalist.
Prophet Zebadiah, 29, said humanity should embrace its origins on the African continent.
Speaking to RT, Zebadiah said: "Humanity started in East Africa. We are all of African descent. We should remove our white skin and embrace our melanin," by which he means the pigments which make-up dark skin.
"I am of African descent [and] I have renounced my white skin. The white man thinks in a specific way," Zebadiah added.
"Farage is the white man. He has the mind-set of everyone in Broadstairs: that racist, fascist ideology."
Today's Paint Broadstairs Black rally was a momentous victory for our movement and went off without a hitch. pic.twitter.com/bRZp6gGXcl

— Al-Zebabist N.o.OOOG (@Al_Zebab) January 22, 2015
Zebadiah, whose campaign promises include separating Thanet from the rest of Britain, said the region would demand reparations for "hundreds of years of neglect from government."
The money would go towards regeneration and eventually starting an independent country, he said.
Al-Zebab's campaign has caused a stir in their local community, where one resident complained to the police about receiving "terrorist-type" literature.
Prophet Zebadiah grew up in Cliftonville and is also a musician specializing in 'donk' and grime, according to the local Thanet Gazette.
READ MORE:#UKIP100Days: Channel 4 slammed for docudrama political 'bias'
He has reportedly complained his party posters are being torn down and that he has received death threats.
UKIP leader Nigel Farage also faces competition from British comedian Al Murray in the general election in May.
Adopting his fictional character "The Pub Landlord," Murray will be representing the Free the United Kingdom Party (FUKP).
The comedian recently boasted he could drink Nigel Farage "under the table" and said he will introduce new "common sense" policies, which include turning the internet off at the weekend.
You can share this story on social media: