​Unite to desert Labour if party continues to 'fail ordinary workers'
Published time: 18 May, 2015 11:03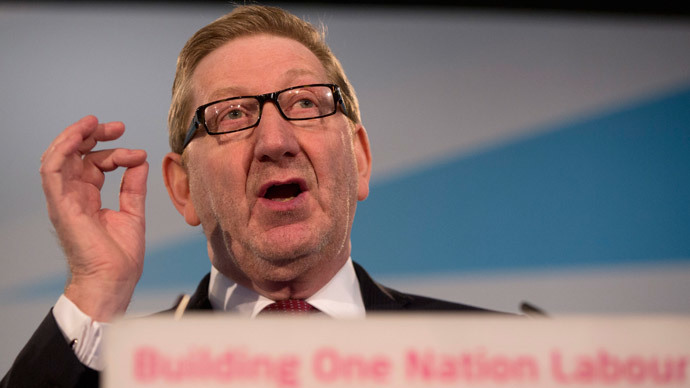 Labour's next leader must become a voice of organized labor or risk losing the support of a union that helped fund its last election campaign, Unite's general secretary has said.
Speaking to the BBC on Sunday, Unite chief Len McCluskey warned that Labour must choose the right leader to replace Ed Miliband.
"It is the challenge of the Labour party to demonstrate that they are the voice of ordinary working people, that they are the voice of organized labor," he said.
"If they do that in a way that enthuses us then I don't believe that the mountain that is ahead of us is unclimbable. It's up to them."
"If they inject more disillusionment in the party then the pressure will grow from our members to rethink. It is certainly already growing in Scotland."
McCluskey hinted that the union might reconsider its historical links to Labour if the next leader doesn't champion the workers from which the party takes its name.
READ MORE: Labour failed to offer anti-austerity alternative, says union boss
His comments come as the Labour leadership contest is heating up, with Andy Burnham the current frontrunner.
Burnham, who is said to have spoken to McCluskey since Labour's election loss, told the BBC: "This won't be union bosses deciding, this will be school dinner ladies, this will be healthcare assistants.
"I am the unifying candidate. I am bringing all parts of the Labour movement together," he added.
Labour peer Margaret Prosser was quick to hit back at McCluskey, telling the BBC's Today program: "I feel really cross when I'm hearing Len [McCluskey] speak because the union belongs to me as much as it does to him, and nobody has asked me, or, as far as I can tell, any of the rest of the membership, what their views are about all of this."
"And, frankly, the idea that the whole focus of Labour's proposal or offer ought to be around organized labour is just daft."
McCluskey has been consistently critical of Labour's approach since the general election saw the party virtually wiped out in Scotland.
He maintains the defeat didn't occur because the party was too left-wing, but rather because its rhetoric on austerity was misguided and failed to offer real alternatives.
READ MORE: 'Democratic outrage': Cameron pledges new anti-strike laws
In a Guardian article, published on Wednesday last week, he suggested fallen Labour leader Ed Miliband had proven a disappointment, arguing the party's narratives on creating wealth became a smokescreen for abandoning society's most vulnerable.
Additionally, a group of MPs have written an open letter, published in the Morning Star newspaper on Saturday, calling for the next leader to take a radical approach.
Reflecting on the leadership contest, the MPs said whoever gets the job must "challenge an agenda of cuts, take on the powerful vested interests of big business and set out an alternative to austerity."
They also called for a definitive break from Britain's "New Labour creed of the past."