'Democratic outrage': Cameron pledges new anti-strike laws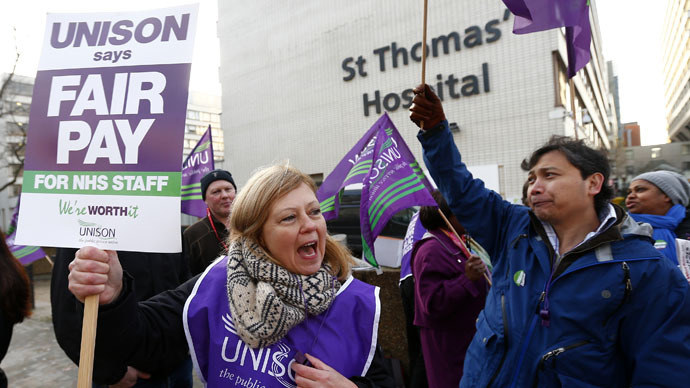 Prime Minister David Cameron has promised to make it harder to call strikes in the public sector if the Tories win the general election in May.
A majority Conservative government would change the law so that workers in "essential" public services would only be able to strike if 40 percent of eligible union members vote in favor of industrial action.
At the moment, a strike will go ahead if it is backed by the majority of those balloted. As such, there is currently no stipulation as to how many eligible union members must vote in order to make the action legally legitimate.
Tory plans would also overturn a ban on using agency staff to cover striking workers, implement new curbs on picketing, and impose a time restriction – forcing unions to take action no longer than three months after a ballot.
Unions responded angrily to the news, accusing the Conservative Party of wanting to "bounce" Britain's workers back to the "dark ages."
Cameron's latest election pledge will apply to employees who work for "essential" public services – education, health, transport, and fire services.
Speaking to BBC Radio 4's Today program, Transport Secretary Patrick McLoughlin said: "I think before a strike is allowed to go ahead it must have much more support from the union members and cannot be called by politicized union leaders."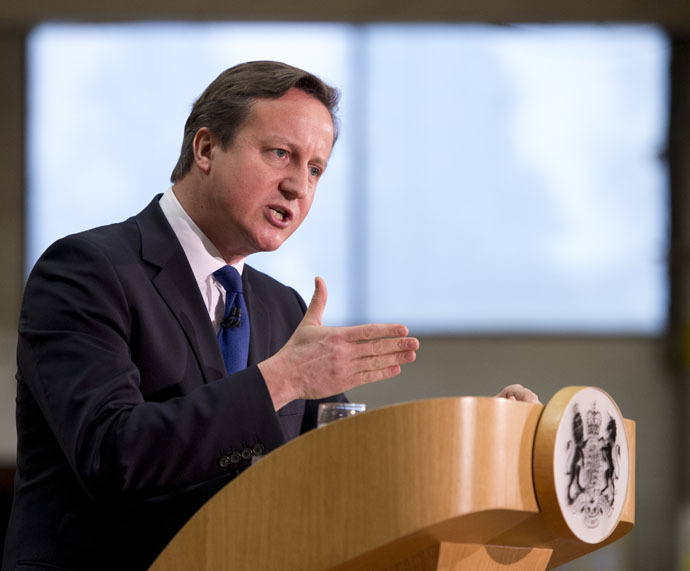 McLoughlin cited a London bus strike planned for January 13. He said that only 16 percent of those able to take part in the ballot actually voted in favor of the action.
However, unions were quick to point out the Conservative Party's hypocrisy, given that the party failed to secure an outright majority in the last general election – and yet formed a government with the help of the Liberal Democrats.
"If this threshold was applied to elections not only Boris Johnson but cabinet ministers including George Osborne and Francis Maude would not have been elected, not to mention hundreds of other MPs, MEPs and countless local councilors," a spokesman for Public and Commercial Services (PCS) union said.
Len McCluskey, leader of the UK's largest union Unite, accused the Tories of wanting to "bounce" Britain back to the "dark ages."
"The way to resolve [industrial] disputes is through negotiations – not to intimidate and silence by legislation. The way to improve turnouts is to modernize balloting, something trade unions have repeatedly called for but been ignored by the Conservatives who are determined roll back the rights of working people," he said.
David Cameron wants a 40% mandate for union strike action, but he went to parliament with 39.4% endorsement of his constituents.

— Nicky Stubbs (@NickyStubbs2) January 10, 2015
"We already have the most backwards trade union laws in Europe yet they want to bounce us further to the dark ages."
Frances O'Grady, general secretary of the Trade Union Congress, lambasted the government for the plans.
"It is a democratic outrage, especially as the Conservatives have opposed allowing secure and secret online balloting – the one measure guaranteed to increase turnouts," she said.
Under current law, strike balloting must take place by postal vote.
READ MORE:Tens of thousands of NHS workers stage historic pay strike
"These measures would make it virtually impossible for anyone in the public sector to go on strike – shifting the balance completely in favor of the government and employers, and away from dedicated public servants," said UNISION General Secretary Dave Prentis.
"The UK already has tough laws on strikes – there is no need to make them stricter still," he added.
.#democracy#hypocrisy more like. Mr Cameron walking in Paris march on Sunday while at home denying union members the right to strike?

— MDplusthree (@MDplusthree) January 10, 2015
The coalition government has been dogged by strikes in recent years, most of which have protested against anti-austerity policies such as pay freezes.
In its annual Labour Disputes report, the Office for National Statistics reported nearly twice as many working days were lost to strike action in 2013 than in 2012.
Of the 443,600 working days lost in the UK, 56 percent were from public sector strikes. The majority of industrial disputes were over pay – a category which includes strikes over feared reductions in salary, as well as disputes over the size of pay increases.
READ MORE:24-hr public strike grips UK – 200,000 protest pay freeze
A general public sector pay freeze has been in effect since 2010, resulting in a 20 percent pay cut in real terms, according to PCS.
Conservative Minister Matthew Hancock said in July last year that public sector wages would not increase above inflation until 2018.
Britain was rocked by public sector strikes last October, as anger against austerity came to a head.
Roughly 200,000 members of PCS took to the streets during a 24 hour national walk out, while tens of thousands of NHS nurses went on strike over pay for the first time in 32 years.
You can share this story on social media: